The Cumberland & Dumfriesshire Farmers Mart held their annual Christmas Show and Sale of Prime Cattle at Dumfries on Wednesday 3rd December 2008.
Local Butchers & Wholesalers were out in full force giving their continued support to producers from throughout the South West Region.
An exceptional Show & Sale of Cattle (a credit to local Stockmen) was presented to the Judge N Cumming Scotch Premier Meats, Inverurie.
The Championship Rose bowl was awarded to Mrs M Paul, Greigsland with a 19mo Limousin X Heifer (610Kg) which sold at 330p (£2013.00) to Mr B Taylor, Border Meats for the Butchery Lockerbie.
The Reserve Champion was shown by Ewan Paul, Greigsland with a British Blue X Bullock (615Kg) making 220p (£1353.00) to John Scott Meats (Paisley) Ltd
Show Results
1. Limousin Bullock
1st Nether Ernambrie 188p to Scotch Premier Meats
2nd Haas-side 190p to M/S Whannel, Wishaw

2. Charolais Bullock
1st Greenfield 202p to Scotch Premier Meats
2nd Mid Bishopton 260p to Galloway Quality Meats, Dumfries
3. Any other Continental Bullock
1st Greigsland 220p to John Scott Meats (Paisley) Ltd
2nd Gatehouse 182p to M/S Fraser Butchers, Stranraer
4. Native Breed Bullock
1st Shancastle 210p to JD Owen & Son Butchers, Newton Stewart
2nd High Creoch 168p to W Lindsay Butcher Creetown
5. Home Bred Bullock
1st Greenfield 195p to M/S Fraser, Stranraer
2nd Nether Ernambrie 188p to M/S Fraser, Stranraer
6. Limousin Heifer
1st Greigsland 330p to B Taylor, Border Meats
2nd Greenfield 218p to Scotch Premier Meats Ltd
7. Native Breed Heifer
1st Shancastle 212p to B Taylor, Border Meats
8. Home Bred Heifer
1st Upper Brydekirk 192p to M/S Fraser Stanraer

Outwith show 81 Cattle Forward. Quality was better trade sharper
Heifers Limousin to 193.5p Upper Tinwald Dumfries to Scotch Premier Meats, 191.5p Balgrayhill, Lockerbie to R Johnstone & Sons Butchers Annan, 191.5p Upper Tinwald Dumfries to M/S Fraser Butchers Stranraer, 186.5p, 185.5p, 183.5p (x2), 180.5p Balgrayhill Lockerbie to J Kerr & Son Butchers Gretna, The Nith Hotel, Glencaple and Border Meats Ltd
Bullocks Limousin to 194.5 Upper Tinwald Dumfries to R Johnstone & Sons Butchers Annan, 191.5, 185.5p Balgrayhill Lockerbie to R Johnstone & Sons Butchers Annan & M/S Fraser Stranraer, 181.5p waterside Haugh of Urr to M/S Whannel, Wishaw
Charolais to 184.5p, 180p Greenfield, Annan to Scotch Premier Meats Ltd

93 OTM Cattle forward Trade firmer
Cows British Blue to 113p Meikle Barncleugh
Limousin to 120p Druidhall
Angus to 102p Meikle Barncleugh
Holstein to 91p Longbridgemuir
Bulls Angus to 95 Druidhall
Bullocks Charolais to 139p Marwhirn
Cows Per Head British Blue to £861 Dinnans
Limousin to £798 Waterside
Angus to £774.25 Druidhall
Holstein to £728 Longbridgemuir
Bulls Angus to £943.95 Marwhirn
Bullocks Charolais to £1084.20 Marwhirn

1217 Prime Lambs & 618 Cast Ewes & Rams
Prime Lambs met a buoyant trade with all classes miles dearer on the week. Top price of 142.8p was paid for Beltex Crosses from Messrs E & AE Park, Harleyrigg, Dumfries.
Top Price per head was £70 also for Texel Crosses from Messrs J Warnock & Son, Dreva.
Overall average was 131.8p
Top Prices
Light Lambs (25.5-32Kg) Top 128.1p av 124.9p
Texel £41 Lochmailing
Blackface £37.80 Airyhemming
Standard Lambs (32.1-39Kg) Top 138.9p av 133.1p
Suffolk £53.50 Hartwood, £52.20 Knockenhair
Blackface £52.80 Midlock, £51.80 Burnside, £50.80 Wyliehole
Berrichon £52.20 Glendarroch
Cross £51.20 Grove Farms, £48.80 Lochwood, £47 Hartwood
Texel £50 Lochwood, £49.80 Knockenhair
Lleyn £49 Summerhill
Medium Lambs (39.1-45.5Kg) Top 142.8p av 134.8p
Texel £61.80 Spango, £61 West Skelston, £60.80 Hillhead, £60 Ballaggan
Beltex £60 Harleyrigg,
Suffolk £57 Ewanston, £57 Dreva
Charollais £56.50, £55.20 Porterstown
Berrichon £56.20, £56 Glendarroch
Cross £54.80 Spango, £54 Wynholm Farms
Heavy Lambs (45.6-52Kg) Top 131p av 124.8p
Texel £63.80, £61.70 West Skelston, £63, £60 Dreva, £61.50 Hillhead
Suffolk £59.50 Riggheads, £59 Abune the Brae
Charollais £58 Carsegowan
Berrichon £57 Glendarroch, £53 Newark
Cross £50 Grove Farms
Super Heavy Lambs (52.1Kg + over) Top116.6p av 106.2p
Texel £70 Dreva, £61.50 Midlock
Suffolk £69.50 Low Kirkbride, £63 Cleughbrae, £61, £60.50 Dreva, £58 Lochwood

Cast Ewes & Rams – met a sound trade if they were well fleshed
Top price
Heavy Ewes
Texel £68, £62.50 Townfoot, £53 Shieldhill
Suffolk £56 Dreva, £53.50 The Dabbins, £42.50 Kirkbride
Half Bred £55 Annefield
Leicester £47.50, £43 Dreva, £43.50 Balgowan, £44 Hartwood
NCC £47.20 Annefield
Cross £45.20, £44.20 Shieldhill, £42 Dreva, £40 Abune the Brae
Light Ewes
Blackface £36, £29.80 Crairieknowe, £34.50 Hillhead, £31 Fingland, £29.50 Abune the Brae, £29.50 Dreva
Jacob £25 Low Kirkbride
Heavy ewes av £33.68 Light Ewes av £24.07
Rams
Suffolk £62.50 Dreva, £48.50 Crairieknowe
Texel £58.50 Crairieknowe
Leicester £37 Dreva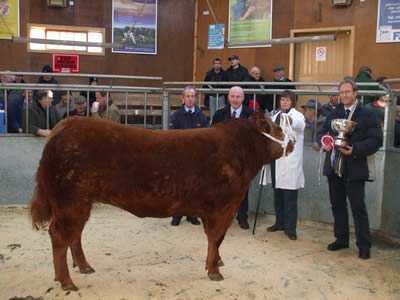 Champion Left to Right S Ferguson (Carrs fertiliser), N Cumming (Judge) Scotch Premier Meats. Mrs M Paul, M Everett (Carrs Fertiliser)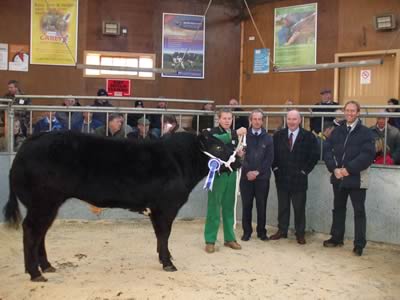 Reserve Champion Left to Right E Paul, S Ferguson (Carrs Fertiliser), N Cumming (Judge) Scotch Premier Meats, M Everett (Carrs Fertiliser)