The Cumberland & Dumfriesshire Farmers Mart held their weekly sale of Primestock at Dumfries on Wednesday 10th December 2008.
95 Prime cattle – trade remains firm for best sorts
Heavyweight heifers – Charolais to 190p from AH Fisher, Merrick to Messrs Fraser, Butchers, Stranraer and to 176.5p, 174.5p, 171.5p to Border Meats and Cleveland Meats. Limousin to 180.5p Balgray Hill, Lockerbie to R Johnstone & Sons, Butchers, Annan, 180.5p Upper Tinwald to J Kerr & Sons, Butchers, Gretna, 180p Merrick to Haining Bros, Butchers, Kirkcudbright, 170.5p, 170p Balgrayhill to Border Meats and Messrs Fraser.
Lightweight heifers - Charolais 185.5p, 183.5p, 178.5p, 176.5p Merrick purchasers being Cleveland Meat Co, Stockton on Tees, JD Owen & Sons, Butchers, Newton Stewart, Galloway Quality Meats, Dumfries and Border Meats, Lockerbie, 181.5p Meikle Labrax to Border Meats. Limousin 178.5p Merrick to The Nith Hotel, Glencaple, 170p Backburn to Galloway Quality Meats. Top Gross Heifer £1121.00 Merrick.

Bullocks - Charolais to 174.5p Merrick to Cleveland Meats; Limousin 171.5p Fagra to PR Duff & Son, Wishaw. Top gross bullock £1045.35 Allerbeck

47 Prime Bulls – best quality sharper.
Limousin to 180p, 178.5p, 177.5p, 173.5p, 172.5p Castlewigg, 174.5p, 171.5p Duchra; Charolais 166.5p Greenfield; Holstein 143.5p, 141.5p, 138.5p, 135.5p, 135 Balker, 137.5p, 132.5p Mid Bishopton. Top gross bull £1,267.28 Greenfield.

119 OTM cattle – trade firm
Cows per kilo – Limousin 123P Guelt; Angus 101p Gillesbie; Simmental 97p Auchnotteroch; Holstein 91p New Farm & Kerricks

Bullocks – Limousin 142p Backburn.

Cows per head – Holstein £741.65 New Farm, £718.25 Kerricks, £696 Drum; Simmental £702.75 Cormaddie, £669.30 Auchnotteroch; Limousin £779.35 Dinnans, £719.55 Guelt, £702.85 Dinnans.

The firm had forward 1903 prime lambs and 513 cast ewes & rams.
It was the annual Christmas show and sale of lambs and a larger entry than normal was ably judged by Mr. A. Craig, c/o Ballards Butchers, Castle Douglas.
Champion pen of lambs from Messrs W T McMiken, Nether Ernambrie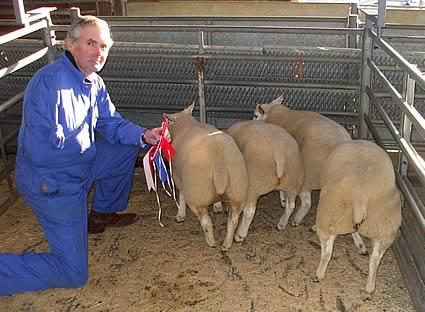 The championship was awarded to Messrs W T McMiken, Nether Ernambrie, Castle Douglas with a pen of Beltex x lambs scaling 38 kg and selling for £102 (268p) each to Galloway Quality Meats, Dumfries.
The reserve pen was Texel cross lambs shown by Gelston Castle Farms also scaling 38 kg and selling for £72 (195p) to Ballard Butchers, Castle Douglas.
Other prize winners
Texel lambs 1st Gelston Castle Farms, Castle Douglas, 2nd R Campbell, Kerricks, Dumfries.
Beltex lambs 1st & 2nd Messrs W T McMiken, Nether Ernambrie, Castle Douglas
Suffolk lambs 1st Mosside Farms, Dunscore, 2nd T McCubbin, Kenmuir, Dunscore
Mule lambs 1st J Wight & Son, Midlock, Crawford, 2nd Mosside Farms, Dunscore
Blackface lambs 1st J Warnock & Sons, Eastfield, Biggar, 2nd R B Dickie, Spango, Sanquhar.
Overall lambs were a good trade and averaged 129.2p a fall of 1p/kg on the week.
Top prices:-
Light lambs (25.5 – 32.1kg) Top 144p average 123p
Texel £46 Ryder Farming, £43 High Drum, £42 Ryder Farming, £39 Barbuie;
Blackface £40 Lawesknowe, £36.50 Riggheads, £35.80 Ryder Farming; Greyface £38.50 Maxwelltown; Beltex £37.50 Ryder Farming.
Standard lambs (32.1 – 39 kg) Top 268p average 128.2p
Beltex £102 Nether Ernambrie; Texel £74 Gelston Castle, £54.80 BQ Farms, £54.80, £54 Courance Farms, £53.80 Liscleugh; Suffolk £52.50 East Polquhirter, £52 Hartwood, £50 Barvennan; Blackface £51 Elvanfoot, £50.80 Spango, £50 Midlock.
Medium lambs (39.1 – 45.5kg) Top 170p average 131.2p
Beltex £75 Nether Ernambrie, £74.50 Waterside; Texel £62, £58 Courance Farms, £57.80 Gelston Castle, £57.20 Kennedy, £57 Longbeoch; Suffolk £57.50 Mosside, £50 Archbank, £56.80 BQ Farms; Charollais £57.20 Courance Farms.
Heavy lambs (45.6 – 52kg) Top 129p average 123.8p
Texel £65.20 Newmains, £63.50 Keyla Park, £62 Shawsmuir, £61.50 East Kirkcarswell; Suffolk £64.50 Hayfield, £63 Kenmuir, £58.80 Annefield; Halfbreds £54.50 Marwhirn.
Super heavy lambs (52.1 & over) Suffolk £66 Kenmuir; Charollais £57.50 Foremannoch; Greyface £52.50 Marwhirn.

Cast ewes and rams – 513 sold were scarcer and £3 dearer on the week
Top prices ewes - Texel £70 Barr, £63.50 High Drum, £58.50 Bankswood, £52.50 Druidhall; Suffolk £69 Horseclose, £68.50 High Drum, £66.50 Horseclose, £54.50 Barr; Greyface £45.50 Backburn, £44.50 Kerricks, £43.50 Archbank, £42.50 Druidhall; North Country Cheviot £44.50 Archbank, £40 Roundfell; Cheviot Mule £43.50 Roundfell; Leicester £55.50 Midlock, £38 Hayfield.
Light ewes – Blackface £34 Druidhall, £31 Longbeoch, £29.50 Hayfield; Cheviot £26.50, £25 Glengeith.
Cast rams – Texel £55.50 North Cowshaw, £40.50 Backburn.