The Cumberland & Dumfriesshire Farmers Mart held their weekly sale of primestock in Dumfries on Wednesday 9th December 2009 including their Christmas Show & Sale of Prime Cattle 81 Forward.

A top quality show of 16 (haltered) Prime Cattle (a credit to local stocksmen) was presented to the Judge N Hall, Fraser Butchers Stranraer who after much deliberation found his champion with a British Blue X Heifer (21mo) 645Kg which sold at 340p £2193 to the Judge from Ian Goldie, Greenfield.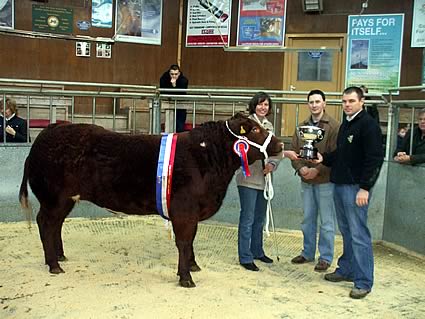 Champion L to R, D Goldie, N Hall (Judge), S Dodd (Sponsor Grange Quarry Ltd, Lockerbie)
The reserve ticket was awarded to Allerbeck Farms, Eaglesfield with a home bred Limousin Bullock (18mo) 620Kg which realised 320p £1984 also to M/S Fraser Stranraer
Prize List
1. Limousin Bullock – 1st Greigsland 250p to Galloway Quality Meats, Dumfries 2nd Balgrayhill 240p to M/S Fraser Butchers Stranraer
2. Charolais Bullock – 1st Greenfield 210p to M/S Fraser Butchers Stranraer 2nd No 4 Nether Locharwoods 205p to M/S Fraser Butchers Stranraer
3. Any other Continental Bullock – 1st isle of Dalton 210p to John Scott (Paisley) Ltd
4. Native Breed Bullocks – 1st High Creoch 200p to M/S JD Owen & Son Butchers Newton Stewart
5. Bullock Bred by Exhibitor – 1st Allerbeck 320p to M/S Fraser Butchers Stranraer 2nd Balgrayhill 240p to Frasers Butchers Stranraer
6. Limousin Heifer – 1st Allerbeck 220p to R Johnstone & Sons, Annan
7. Any other Continental Heifer – 1st Greenfield 340p to M/S Fraser Butchers Stranraer
8. Young Farmers Champion Greigsland 250p to Galloway Quality Meats


The Main sponsor of the Show was Kindly Sponsored By Grange Quarry Ltd, Lockerbie
Outwith Prize List
Bullocks
Limousin to 210.5p Upper Tinwald to M/S Fraser Stranraer, 210p Nether Ernambries to M/S Whannel Shotts, 187.5p Mid Bishopton to M/S Fraser Stranraer
Angus to 195.5p Sunnyhill to Border Meats Lockerbie
Charolais to 180p Woodfield to Scotch Premier Meats Inverurie
Heifers
Limousin to 206.5p Balgrayhill to M/S Fraser Stranraer, 201.5p Upper Tinwald to J Kerr & Sons Butchers Gretna, 193.5p No 6 Stonehouse to R Johnstone & Sons Butchers Annan, 190.5p Balgrayhill to The Nith Hotel Glencaple, 190.5p, 189.5p Sunnyhill to M/S Whannel Shotts and Border Meats
Charolais to 204.5p Greenfield to M/S Whannel Shotts
20 Prime Bulls – Trade steady
Charolais to 165.5p, 161.5p Carwood
Holstein Friesian to 138.5p (x2) Dinwoodie Green
Angus to 136.5p Mid Bishopton
Top Gross Bull £1208.15 Carwood
30 OTM Cattle – Numbers Tighter Trade Firmed
Cows per Kilo
Charolais to 159p Greenfield
Angus to 133p Burnfoothill
Limousin to 131p No 2 Tregallon
Simmental to 116p Newbie Mains
Holstein Friesian to 89p Fingland
Bulls Limousin to 107p Meikleholm
Cows per Head
Simmental £1328.20 Newbie Mains
Charolais £1025.55 Greenfield
Limousin £844.95 No 2 Tregallon
Hereford £755.25 Duncow House
Holstein Friesian £707.55 Fingland

1517 Prime Lambs – Larger numbers and quality again very mixed but prices remain firm selling to a top of £89.50 for Texel Crosses from Messrs J Wight & Sons, Midlock. Top price per KG was 196p for Texel crosses from Mr S Carlisle Nether Dargavel. Overall average was 170.1p
Top prices
Light Lambs (25.5-32Kg) Top 186p av 182.1p
Cross £57.50 Lawesknowe, £55 Gass, £53 Elvanfoot
Blackface £56.80 Nisbet, £52 Kirkton of Crawford, £52 Nether Craigenputtock, £52 Laweknowe
Standard Lambs (32.1-39Kg) Top 190p av 172.2p
Texel £72.20 Barndennoch, £71 Nether Gribton, £70 Mitchellslacks
Suffolk £66.50 Woodland
Lleyn £65, £64 Bennan
Blackface £65 Eastfield
Cross £64.20 Lawesknowe
Medium Lambs (39.1-45.5Kg) Top 196p av 172.8p
Texel £82.50 Nether Dargavel, 378 Cocklicks, 374.50 Barndennoch
Beltex £82.50 Nether Dargavel
Suffolk £82 Kenmuir, £74.50 Cocklicks, £74 Hillhead
Heavy Lambs (45.6-52Kg) Top 170p av 162.6p
Texel £84.50 Townfoot, £82.50 Barshill, £80 Kenmuir
Charollais £83 West Lanegate
Suffolk £83 West Lanegate, £80.50 Kenmuir
NCC £79 Annefield
Charollais £78.50 Carslea
Cross £77.50 Annefield
Super Heavy Lambs (52.1 + over) Top 161p av 151.2p
Texel £89.50 Midlock, £88.50 Backburn, £87 Townfoot, £83.50 Dempsterton
Suffolk £87.50 Swyre, £85 Gibbonhill
Leicester £75.50 Midlock
411 Cast Ewes & Rams, dearest trade of the season.
Top prices Heavy ewes
Texel £119 Midlock, £82.50 Kerricks, £82.50 Barshill
Suffolk £87 midlock, £83.50 Dreva
Leicester £80.50 Dreva
Cross £79.50 Hapland, 379.50 Dreva, £77.50 Swyre
NCC £76.50 Burn
Light Ewes
Cheviot £67.50 Dalhanna, 363.50 Archwood
Blackface £67.50, £57.50 Snar, £66.50 Dreva, £61 Dalhanna, £56.50 Corsencorn
Cast Rams
Suffolk £97.50 Dreva, £95.50 Hapland, £73.50 Knockenjig
Blackface £69.50 Dreva
Leicester £64.50 Dreva
Heavy Ewes averaged £71.14
Light Ewes averaged £46.71