The Cumberland & Dumfriesshire Farmers Mart held their weekly sale of primestock in Dumfries on Wednesday 16th December 2009.

45 Prime Cattle forward – Quality sorts in short supply, Trade remained firm.
Heifers
Limousin to 198.5p from D & R Cornthwaite, Balgrayhill to R Johnstone & Sons Butchers Annan, 189.5p Balgrayhill to M/S Bosomworth Paisley, 188.5p Balgrayhill to J Kerr & Sons Butchers Gretna, 183.5p Merrick to J Scott (Paisley) Ltd, 179.5p Belridding to Border Meats Lockerbie
Charolais to 183.5p Merrick to M/S Whannel, Shotts, 181.5p Merrick to M/S Bosomworth Paisley
Top Gross Heifer £1055.60 Balgrayhill
Bullocks
Limousin to 179.5p Merrick to M/S Whannel Wishaw
Charolais to 169.5p Marwhirn to C Anderson
Top Gross Bullock £1220.18 Marwhirn
48 OTM Cattle forward – Trade for all classes was sharper
Cows per Kilo
Limousin to 139p Cowburn, 129p Kilbride, 114p Fagra
Angus to 97p Fagra
Holstein to 122p, 117p, 113p Lakehead, 93p Conheath
Cows per Head
Holstein to £860.10 Lakehead
Limousin to £722.40 Cowburn, £698.40 Carsegowan
Angus to £660.25 Druidhall
Bullocks per kilo
Limousin to 157p Belridding
Hereford to 150p, 135p, Duncow House
Per Head
Hereford to £1147.50 Duncow House
Limousin to £1020.50 Belridding
1036 Prime Lambs forward, Included in this was the Christmas Show of Prime Lambs Judged by Mr Martin Pratt of North Country Primestock .
Champion Pen (l to r) D Aitken, Upper Cleugh, M Pratt (Judge),
D Brydson & T Stevenson (Main sponsor Natural Stockcare Ltd)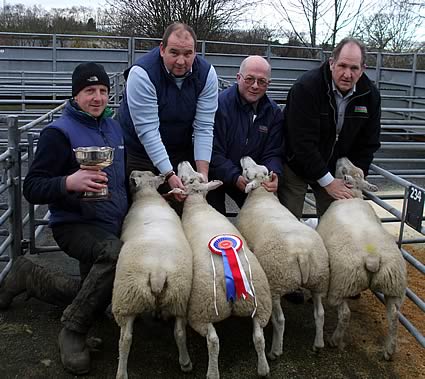 The Championship was awarded to Messrs D & D Aitken, Upper Cleugh with a pen of Beltex X Lambs scaling 43Kg (233p) and selling for £100 to R Johnstone & Sons Butchers Annan. The Reserve Champion also Beltex Crosses from W Gribbon & Co, Waterside, Cargen Bridge sold for £80 or 200p for 40Kg Lambs
Prize List
Texel Lambs 1st Messrs Kirk, Hall of Drumpark 2nd R Crichton, Nether Locharwoods
Suffolk Lambs 1st A McCubbin, Kenmuir 2nd A Mcmillian Hastingshall
Beltex Lambs 1st D & D Aitken Upper Cleugh 2nd W Gribbon & Co, Waterside
Mule Lambs 1st R Anderson, Ardoch 2nd Mosside Farms
Blackface Lambs 1st A Hoggan, Maryholm 2nd W Wallace & Sons Fingland
Champion D & D Aitken, Upper Cleugh
Reserve Champion W Gribbon & Son, Waterside
The Christmas Show & Sale of Prime Lambs was kindly sponsored by Natural Stockcare Ltd.
Overall a very brisk trade prevailed with light lambs being especially dear. Overall average was 172.4p
Top prices
Light Lambs (25.5-32Kg) top 196p av 178.8p
Texel £58.80 Burnside
Blackface £59.50 Ardoch, £56 Sweetshawhead, £53 Burnside
Standard Lambs (32.1-39Kg) Top 192p av 180.4p
Suffolk £67 Carruchan, £65.50 Little Culloch, £65 Portertsown
Texel £70 Raehills, £69.80, £69 Nether Gribton, £69 Upper Cleugh
Cross £64.50 Leithenhall, £64 Maxwelltown
Blackface £67.50 Maryholm, £66.50 Sweetshawhead, £65.80 Corsebank
Beltex £75 Laight, £65.50 Upper Cleugh
Berrichon £63.50 Glen Darroch
Beltex £100 Upper Cleugh, £86.50, £86 Laight, £80 waterside
Suffolk £72.50 Hastingshall, £71 Little Culloch
Texel £76 Hall of Drumpark, £73.20 Torkirra, £73 Marwhirn
Cross £76, £73.50 Stair Est, £72, £70 Mosside Farms
Berrichon £75.20 Glen Darroch
Blackface £74 Maryholm, £70.50 Fingland, £70.50 Craigdarroch
Half Bred £71 Marwhirn
Heavy Lambs (45.6-52Kg) Top 171p av 162.1p
Suffolk £79.50 Kenmuir, £78.50 Birkshaw
Texel £82, £81 The Drum, £81 Marwhirn
Half bred £76.50, £72 Marwhirn
Super Heavy Lambs (52.1- + over)
Suffolk £83.20 Birkshaw
Leicester £73.50 Drumbuie
Berrichon £89.50 Newark
A large show of Cast Ewes & Rams for the time of year with 737 forward, buoyant trade for all classes.
Top Prices
Heavy ewes
Charollais £128.50 Nether Keir
Texel £127.50 Nether Keir, £100.50 North Cowshaw, £98.50 Bridgestone
Leicester £105.50 Glenlaught, £91.50 Tower
Suffolk £97.50, £92.50 Auchengray, £91.50 Bridgestone
Berrichon £95.50 Glen Darroch
Cross £87.50 Birkshaw, £79.50, £86 Lanarkland
Lleyn £72 West Millriggs
Light Ewes
Cheviot £62.50 Dalhanna, £55, £53 West millriggs
Blackface £59.50 Dalpeddar, £58.50 Woodfoot, £57.50 Loch Arthur
Swale £50.80 Nether Barr, £48.50 Wynholm
Cast Rams – very dear for all classes
Texel £114.50 North Cowshaw, £98.50 Castlefairn, £96.50 Park
Leicester £86.50 Newark, £76.50 Glenlaugh
Blackface £59.50 Leithenhall
Heavy Ewes averaged £75.03 +£4.87
Light Ewes averaged £53.26 + £6.85