The Cumberland & Dumfriesshire Farmers Mart held their Sale of Prime Cattle in Dumfries on Wednesday 12th December 2012.
20 Prime Cattle – Numbers remain short of buyers needs. Trade firmer. Sale average 215.2p or (384.3p @ 56%)
Bullocks
Limousin to 233.5p from D & E Lockhart, Faulding Cleugh to R Johnstone & Sons Butchers Annan, 224.5p Faulding Cleugh Kirkpatrick Fleming to JD Owen & Sons Butchers Newton Stewart, 222.5p Kenmuir Ardwall to Border Meats Lockerbie
Top Gross Bullock £1451.63 Marwhirn
Heifers
Limousin to 230.5p from Kenmuir Farmers Ardwall to Border Meats Lockerbie
Charolais to 228.5p Marwhirn Moniaive to M/S JG Renick & Sons Butchers Thornhill, 227.5p Marwhirn, Moniaive to Grierson Bros Butchers Castle Douglas, 225.5p Upper Tinwald Dumfries to R Johnstone & Sons Butchers Annan
Top Gross Heifer £1348.43 Kenmuir
60 OTM Cattle – Trade looked sharper for all classes
Per Head
Angus to £1104.90 Drumbuie
Limousin to £1064.70 Tower
Simmental to £951.75 Marwhirn
Holstein to £942 Netherwood
Per Kilo
Angus to 157p Netherwood
Limousin to 135p Marwhirn
Simmental to 131p Gillesbie
Holstein to 120p Rigghead
Montbelliard to 135p Todholes
Show and Sale of 1564 Prime Lambs – The Judge Mr Haig Murray from Dunbia Ltd awarded the Championship to a pair of Beltex x Lambs from Mr B Ryder, Newton Cottage scaling 43Kg and selling for £140 (318p) to Bowood.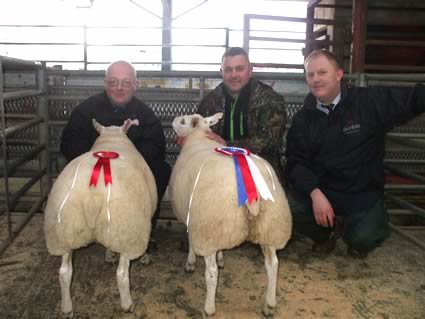 Champion Lambs with L to R D Bryson (Sponsor), Brian Ryder, Haig Murray (Judge)
The Reserve Champions also Beltex Crosses shown by Messrs D & D Aitken, Upper Cleugh made £120 to J Kerr & Son Butchers Gretna.
Pen of Lightweight Lambs per Kilo through the ring was awarded to Chanlockfoot.
We would like to Thank you the Sponsors Natural Stock Care and Border Toyota
Other Prize Winners
Texel Lambs 1st B Ryder, Newton Cottage, 2nd I Bunting Bridgestone
Beltex Lambs 1st B Ryder, Newton Cottage, 2nd D &D Aitken Upper Cleugh
Suffolk Lambs 1st McCubbin Kenmuir 2nd Spence Springfield
Any Other Bred 1st P McFadzeon, Mosside 2nd P McFadzeon
Pen of 20 Mule Lambs 1st R Anderson Ardoch
Pen of 20 Blackface Lambs 1st Hamilton Glenmanna, 2nd Wallace Fingland
Prime Lambs – all classes considerably easier on the week with the days average of 145.2p. Top prices
Light Lambs (Top 157p ave 148.2p)
Texel £49 Shawhill
Cheviot £47 Chanlockfoot
Blackface £46.50 Nisbet, £45 Sweetshawhead, £44.80 Chanlockfoot
Standard Lambs (32.1-39Kg) Top 206p ave 144.2p
Beltex £74 Newton Cottage
Texel £67 Nether Gribton, £64 Rigghead, £60 Sandilands, £60 The Cottage
Charollais £57.50 Mosside
Suffolk £55 Abune the Brae, £52 Hastingshall
Cheviot £55 Riggheads, £52 Chanlockfoot, £50.50 Glenjaan
Chev Mule £53.50 Springfield
Cross £53.50 Ardoch, £52 Glenlaugh, £52 Corsencon, £52 Kirkhill
Blackface £52.50 Corsebank, £51.50, £50 Nisbet, £50 Chanlockfoot, £50 Kirkhill
Lleyn £50, £49.50 Bennan
Medium Lambs (39.1-45.5Kg) Top 318p ave 148.6p
Beltex £140, £96 Newton Cottage, £92 Upper Cleugh, £91, £82 Bridgestone
Texel £99 Bridgestone, £80 Upper Cleugh, £76 Kerricks
Suffolk £70 Mosside, £65, £62 Springfield
Charollais £67 Mosside, £65 Shangan
Cheviot £63.20 Glenjaan, £57 The Cottage
Blackface £61 Fingland, £61 Glenmanna
Cross £60 Ardoch, £58.50 Rigghead, £55.50 Nether Barr, £55 Guelt
Heavy Lambs (45.6 – 52Kg) Top 255p ave 140p
Beltex £120 Upper Cleugh, £92, £89 Waterside
Texel £95, £70.50 Newton Cottage, £86, £75 Upper Cleugh, £70 Nether Locharwoods
Suffolk £70 Riggheads, £70 Kenmure, £68 New Farm & Shangan
Super Heavy Lambs (52.1+over) Top 141p
Texel £77.50 Newmains, £75.50 The Cottage, £70 Newmains
Suffolk £76 Kenmure, £68 Palaceknowe
259 Cast Ewes & Rams Forward – Ewes met a similar Trade
Texel £84.50, £78.50 Drumcruilton, £82.50 Drumburn, £79.50 Backburn
Cross £74.50 Drumburn, £64.50 East Polquhirter, Drumcruilton & Bush
Blackface £47.50, £45.50 Glenmanna, £40.50 Corsebank
Rams
Leicester £79.50 Craiglearen
Heavy Ewe average £64.50
Light Ewe average £38.50