The Cumberland & Dumfriesshire Farmers' Mart P.L.C. had forward 4,016 Cheviot and 2,847 horned breeding sheep at their sale at Longtown on Wednesday 1st October, 2008.
At the annual Border ewe sale for both North & South Country Cheviot ewes, shearlings and ewe lambs there was an excellent turnout which attracted a huge ring of buyers from all over the UK. All best quality sheep met a terrific trade. In the North section gimmers sold to a top of £95 from Humbleheugh, others to £90 Stoophill. Ewes to £62 & £60 Stoophill, £59 , £56 Marwhirn, £58 Humbleheugh, £57 The Side.
Ewe lambs to £48 Hilltop (Bell), others to £45 Humbleheugh, £44 East Murton. Hill Northie ewes sold to £54 Naddle, others to £49 Archbank, £47 Puncherton. Hill Cheviot ewes sold to £50 for pens from Castle Crawford, Glengeith, others to £44 Skelfhill, £38 Crossdykes & Carlenrigg, Gimmers to £40 Fuinery. Ewe lambs to £40 Castle Crawford. Also included in the sale was a stock dispersal from D Moffat, Hawkshaw, Tweedsmuir. The sheep were well shown and sold well with prices as follows – gimmers £30, 1 crop £32, 2 crop £33, 3 crop £31, 4 crop £29.
The horned ewes, shearlings and ewe lambs were a nice show with buyers being very selective and as a result best quality were again easiest to sell. Top was £68 for Blackface gimmers from Wanwood Hill, others to £54 Sunnyside, Swaledales to £60 Shankfieldhead. Ewe lambs to £27 for Blackfaces from Black Mountain Farms. Ewes sold to £30 for Swaledales from Branthwaite & The Side, £26 Drove Inn; Blackfaces £24 Sundhope, £23 Megdale. Lleyn gimmers to £52 The Height.
NORTH COUNTRY CHEVIOT RAMS

The Cumberland & Dumfriesshire Farmers Mart held their annual North Country Cheviot ram sale at Longtown on Wednesday 1st October, 2008. A strong commercial trade was enjoyed at this annual show and sale of North Country Cheviot shearling rams with the averages substantially up on the year to level at £286.
Champion North Country Cheviot Shearling Ram
from K & O Stones, Nuncote Nook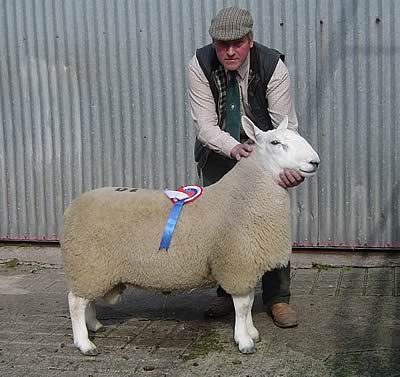 J Runciman & Sons, Allanshaws topped the sale at £620 selling to T Edmondson and £600 to Messrs Crozier, Embley and averaged £334 for 9. Mrs D Waltons Wandylaw flock sold to £540 and averaged £380 for her consignment. K & O Stones, Nuncote Nook sold at £420 and four at £400 each with an average of £381. Other prices included Stoboshiel Mains £420, £360; Allanshaws £420; North Synton £380, £360; Olrig Mains £360; Whiteknowe £380; Wandylaw £360, £340; Naddle Farm £380.
---