The Cumberland & Dumfriesshire Farmers Mart held their annual sale of Gimmers at Dumfries on Friday 28th August 2009.
2417 Mule Gimmers Forward. All classes easily sold with best types meeting brisk competition to average £110.07 (+£33.45) leading the trade was a pen from M/S Stewart & Paterson, Crookboat at £162 to M/S Jardine, Fairgirth followed by £150 Mosside Farmers, Mosside to A Ryder Newton.
Other prices:
£146 Kenmuir, £138 Castlemilk, £136 Marwhirn, £134, £124 Dalpeddar, £134, £132, £122 Coatston, £130 Laweknowe, £130 Grennan, £130 Porterstown, £130 Marwhirn, £128 Rigghead, £126 Wynholm, £122 Knocknaib, £120 Auchencrieff, £120 (x2) Mosside, £118 Easter Dawyck, 3118 Wardhead, £118 Lawesknowe, £118 Porterstown
Cheviot Mule £130 Ryemuir, £130 Marwhirn
Half Bred £130 Marwhirn
Texel X £128 Boreland, £126 West Millrigg
Prior to the sale The Show of Gimmers was very ably judged by J MacTaggart, Dunjop was awarded the following:
Champion – Mosside, Dunscore for Gladstone Scott Memorial Trophy
Reserve – Crookboat, Sandilands
Kindly Sponsored by Process Plant & Machinery Ltd, Lockerbie
Champion pen of Gimmers and, left to right, June & Yvie Stewart, Alison McCormick, Peter & Alistair McFadzean, Judge Jock MacTaggart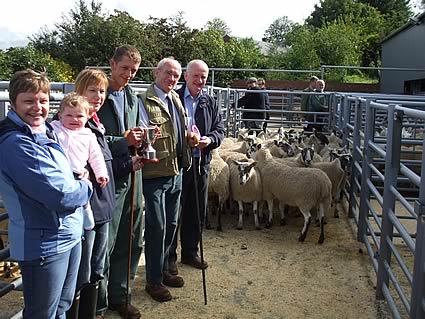 The Cumberland & Dumfriesshire Farmers Mart had forward a catalogue entry of 3014 Scotch Mule Ewe Lambs at the Association Show & Sale at Dumfries Kindly sponsored by Natural Stock Care Ltd, Newcastle upon Tyne.
The judge Mr A Telfer, Broadmeadows awarded the championship to Mrs K Park & Sons, Dalpeddar, Sanquhar for an outstanding pen which made £115 per head to Mr J Fry, Porterstown. All sorts were in terrific demand and the final average of £81.17 was £27 up on the year. Reserve Champion pen from Mr TW Hamilton & Son, Kirkton of Crawford, Abington Sold for £98
Other Prices:
£115, £104, £98, £90 Dalpeddar, £98, £95 Kirkton of Crawford, £98, £84 Guelt, £97 Macherquhat, £98, £92 Ardoch, £96, £94, £93, £92 Tower, £89, £87 Fraserford Farms, £87 Barr, £87 Duncanziemere, £86 Ashmark, £86 Merkland, £85 Cowcorse Cott, £84, £83 Spango
Champion pen of Ewe Lambs and, left to right, Sponsor Natural Stock Care Ltd T Stephenson, John Park, Judge A Telfer, Callum Park, Stewart Park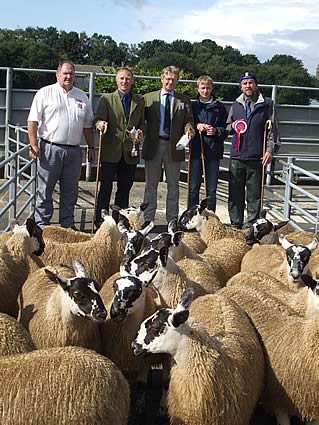 ---