The Cumberland & Dumfriesshire Farmers Mart had forward a catalogue entry of 3035 Ewe Lambs at their Annual Sale in Dumfries on Friday 31st August 2012.
Champion Ewe Lambs - r to l Hugh Hamilton, Jim Walker, (Judge) David Dickie, David Bryson (Sponsor)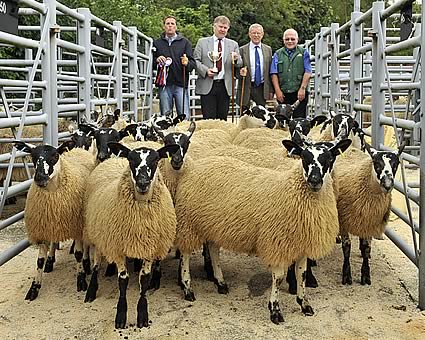 This incorporated the Show & Sale of Scotch Mule Ewe Lambs on behalf of the Scotch Mule Association and Sponsored by Natural Stockcare Ltd. The Judge D Dickie, Knockenjig awarded the Nithsdale trophy for the best pen to Messes JL Walker & Co, Tower Farm, Sanquhar and they realised £135 to Messrs RJ Fry, Porterstown, Keir, Thornhill. The Reserve pen from Messrs K Park & Sons, Dalpeddar made the day's top price selling for £150 also to Messrs Fry.
In general trade was above expectations and despite the horrendous summer lambs showed themselves in good condition. This resulted in the average price levelling at £108.58 a rise of £4 on the Year.
Top Prices
Scotch Mule Ewe Lambs - £150, £136, £126, £124 Dalpeddar, £140, £133 Dornal (Guelt), £140, £133, £129, £120 Barr, £135, £118 (x2) Tower, £130 Easter Dawyck, £128 Grove Farms, £126 Ardoch, £125 Nisbet, £120, £119 Ashmark, £120 Avisyard (Duncanziemere)
Texel X Ewe Lambs - £79 Kirkhill, £78, £76 Leithenhall, £75 Flathill
Suffolk X Ewe Lambs - £77 Hartbush, £84, £73 Netherhall
2505 Gimmers forward – a packed ringside of both local and distant buyers were in attendance – demand for all classes was good to average £148.33 a rise of £1.10 kindly sponsored by Process Plant & Machinery.
Rory Shennan, Carsegowan was given the task of finding the best pen of Scotch Mule Gimmers in the mart which he awarded to M/S RJ Fry, Porterstown selling at £198 to M/S Brunton, Arbroath.
Principal Prices
2080 Scotch Mule to £198, £190, £168 Porterstown, £182 Easter Dawyck, £178, £170 Mosside, £170 Kenmuir, £170 Laight, £165 Tower
263 Texel to £130 Liscleugh, £130 Wardhead
86 Half Bred to £148 Jeanfield, £130 Marwhirn
76 Cheviots to £132 Wardhead, £130 Boreland
Champion Gimmers- r to l Phillip Fry, (Judge) Rory Shennan, James Fry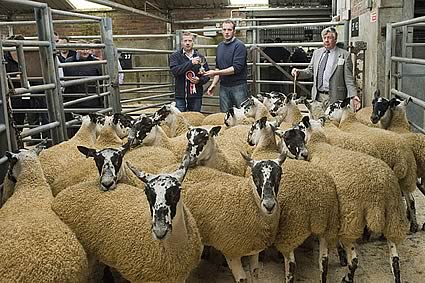 ---