The Cumberland & Dumfriesshire Farmers Mart held their Annual Sale of Breeding Gimmers and Ewe Lambs at Dumfries on Friday 30th August 2013 when an entry of 6015 was forward.
A Full ringside of buyers from throughout the country were present. Trade for first quality sheep was brisk whilst secondary sorts met a more selective trade. Gimmers and Ewe Lambs generally lacked size and bloom.
Champion Pen of Gimmers
l to r James Fry, Phillip Fry and John Jardine (Judge)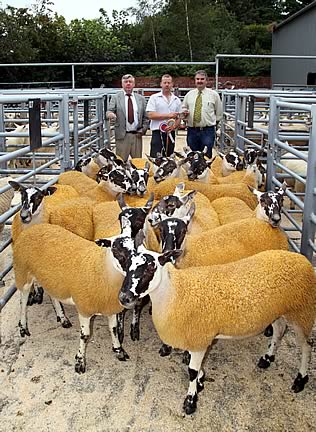 2676 Scotch Mule Gimmers averaged £136 ( - £11.33 on 2012)
Top £200 Porterstown, £182 Lawesknowe, £168 Crook Boat, £168 Coatston, £165 Crairieknowe, £165 Tower, £165 Grennan, £160 Marwhirn, £160 Grennan, £155 Marwhirn, £155 (x2) Grennan, £152 Kenmure, £152 Porterstown, £150 Marwhirn, £150 Easter Dawyck, £150 (x2) Clonrae
157 North of England Mule Gimmers averaged £138 and to £148 Rigghead, £142 Tinwald Shaws, £138 Belridding.
259 Texel Gimmers averaging £125.91 ( - £10.16 on 2012) to £192 Mitchellslacks, £148 Drumcruilton, £142, £138 Knocknaib, £138 Wardhead.
20 Half Bred Gimmers to £130 Marwhirn
Prior to the Sale the Gladstone Scott Memorial Trophy was awarded to RJ Fry, Porterstown which sold to the Judge John Jardine, Fairgirth at £200. Sponsored by Process Plant & Machinery Lockerbie.
Champion Pen of Ewe Lambs realising £140. L to R
Stewart Park, John Park, Tony Pickard (Judge), David Lawton (C & D Chairman), David Natural Stock Care (Sponsor)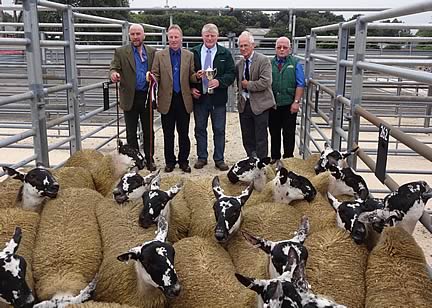 2585 Scotch Mule Ewe Lambs forward at The Nithsdale Show and Sale, Kindly sponsored by Natural Stock Care Ltd. The Judge Tony Pickard, Whitcott, Devon awarded the Nithsdale Trophy to Messrs K Park & Sons, Dalpeddar, Sanquhar who had forward an outstanding pen of lambs which realised £140 per Head to Messrs Fry, Porterstown, Keir.
Reserve Champion Ewe Lambs
L to R Tommy Anderson, Guelt, Tony Pickard, Devon (Judge)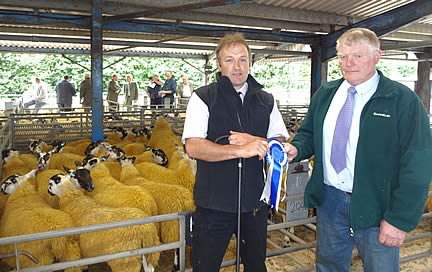 The Reserve Champions were shown by Messrs T & T Anderson, Guelt, Cumnock and made £116 also to Messrs Fry.
Other Top prices £140, £122 Dalpeddar, £121, £115, £114 Ashmark, £120, £115 Barr, £118, £113 (x2), £110 Tower, £116, £110 Nisbet, £116, £110 Guelt, £115 Parkgatestone, £110 Easter Dawyck, £110 Ardoch
Overall average was £101 (- £3.80 on 2012)
318 Other Breed Ewe Lambs
Suffolk x Half Bred to £84.50 Hartbush, £83 Marwhirn
Suffolk x Mule to £87 Netherhall
Champion Rosette being awarded for Ewe Lambs L to R John Park, Dalpeddar, Tony Pickard Devon (Judge), Stewart Park Dalpeddar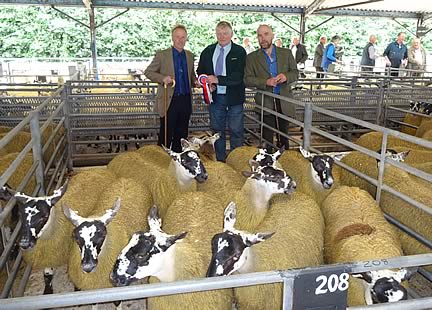 Champion pen of Gimmers L to R Jim Walker, Drumbie and John Jardine, Fairgirth (Judge)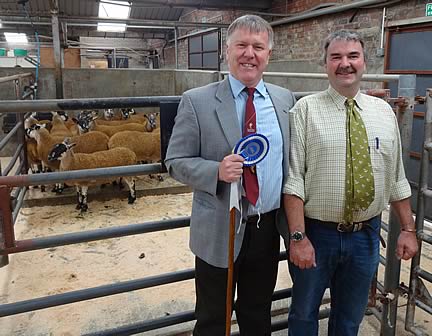 L to R Stewart Park, David Natural Stock Care (Sponsor), John Park, Tony Pickard (Judge), David Lawton (C & D Chairman)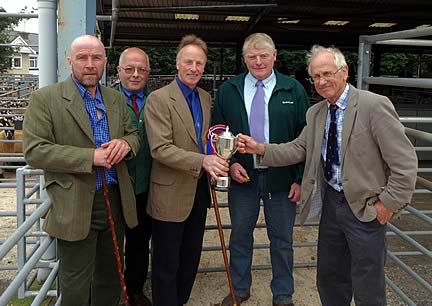 Champion Rosette getting awarded to James Fry of Porterstown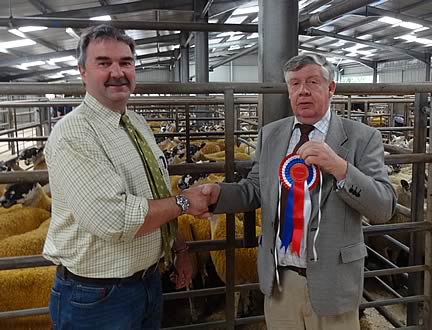 Champion Pen of Gimmers which realised £200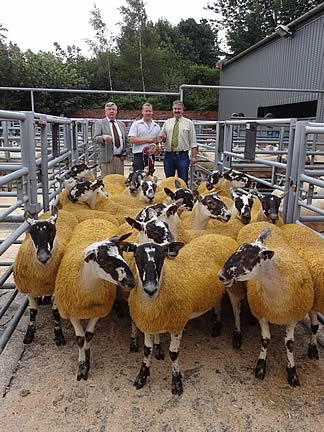 ---