Cumberland & Dumfriesshire held their sale of working collies and puppies at The Hammerlands Centre, Moffat on Saturday 14th March 2009 when they had a catalogued entry of 60 working dogs and 7 pups.
A large attendance of buyers from throughout the UK and Ireland saw a good percentage of the dogs on offer finding homes.
The days top price of 2150gns was paid to JM Maclachlan, Spean Bridge for 'Dave' a Black & White 18 month old Dog which sold to GJ Walker, Brennand Farm, Clitheroe.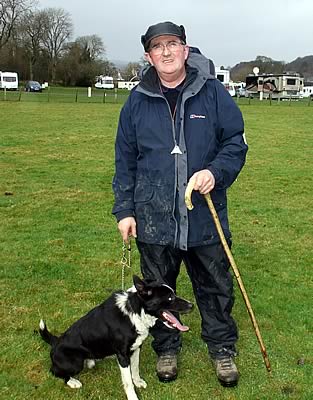 Mr MacLachlan with Dave Top price of the day 2150gns
Irish Consignor E McAuley received 2000gns for 'Roy' a 27 month old Black & White Dog selling to J McNeil, Glenjaan, Moniaive
Other Prices
B&W Dog 19mo from Morpeth 1800gns
B&W Bitch 3yo & B&W Dog 34mo from Annan 1800gns
B&W Dog 2yo from Annan 1700gns
B&W Dog 25mo from Larne 1600gns
B&W Dog 33mo from Broughton 1450gns
BW&T Dog 2yo from Hawick 1400gns
B&W Dog 26mo from Newton Stewart 1350gns
Pups to 160 gns
---