After a wet start to the morning the day brightened to allow the Douglas family to host their Ervie Herefords Autumn Sale & Open Day on Saturday 15th August 2009.
Those attending included commercial bull customers and fellow pedigree Hereford breeders from the length and breadth of the country including a few from Northern Ireland and the Scottish Western Isles.
The Open Day began with two pens of in-calf heifers and some yearling bulls on display with two classes for stock judging. Field tours of the cows with spring and summer born calves along with the three Line One stock bulls imported from America were the main reason for many of the commercial producers attending. They were also able to tour through the 24 Line One calves born in July from the most recent shipment of embryos from the States.
Barbeque lunch was served under a marquee with local accordionist Tommy Agnew providing some fine Scottish medley as background music.
After lunch, Dumfries auctioneer Harry Begg put the seven pedigree heifers under the hammer. These were in-calf to imported bull Ervie L1 Achiever 851A.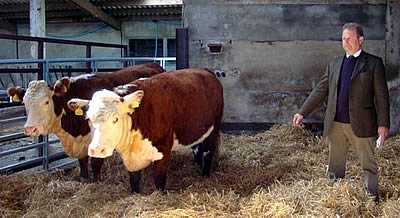 Martin Jones with this purchased Heifers
First heifer in the ring was Ervie Pansy D922 selling to Martin Jones, Hereford for £2300. Mr Jones also purchased Ervie D907 for £2400. Another breeder who had travelled all the way from Worcester to purchase was Nigel Hooper. He bought Lisette D905 for £2000, Barbara D910 for £2400 and Pansy D912 for £1800. Eighteen year old Ben Westby started off his pedigree Hereford herd by buying Barda D896 and Narcissi E928 for £1700 & £1350 respectfully. To round off his purchases Mr Hooper also secured twelve Hereford cross in-calf heifers by private treaty.
Summing up the day host John Douglas said, "Our main thrust for the Open Day was to bring the qualities of the American Line One cattle we have invested in to the attention of our pedigree and commercial customers. Our herd is run under a totally commercial regime and we have huge interest from our bull customers in the increased natural performance these cattle can offer them."

---