Cumberland & Dumfriesshire held their Spring Sale of 60 working collies and pups at The Hammerlands Centre, Moffat on Saturday 12th March 2011.
A Dreich wet cold Saturday did not deter buyers from throughout the country attending the sale at Moffat. 60 Dogs were forward, this being the best offering seen at Moffat and it was generally considered that trade was good with demand for quality dogs exceptional.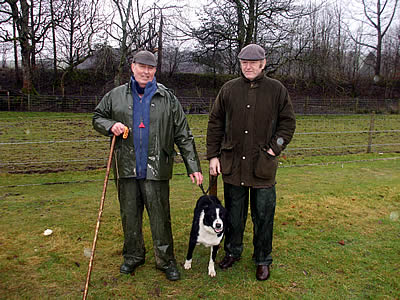 Top Priced Dog, 3000gns
l to r Brian Strachan (vendor), Sweep, Tom Blackloch (purchaser)
The day's top price of 3000 gns (£3150.00) was given for Brian Strachan's of Inverness 3 year old black & white Smooth Coated Dog sired by JR Welsh's Mack and out of RJ Shennan's Mona, Sweep was third in Scottish Nursery Finals and heads to Tom Blacklock, Lanarkshire.

Next Best Late in the day was Perrie McNichol's 'Red' a Brown & White 2 ½ year old dog which sold at 2500gns (£2625.00) from A Gilchrist's 'Moe' out of Birkett's 'Deal' purchased by M/S Handley, Carnforth.
A strong contingent of Irish sellers were in attendance their best price of 2400gns (£2520.00) was for 'Nan' a 2 Year old Tricoloured Unregistered Bitch from B Davies's 'Moss' out of A Vondinther's 'Rose' sold by Kilcreen Sheep Dog Centre to R Bayner Perth.
Alan Sim Kilnross sold his 2 year old Tricoloured Bitch 'Jan' at 2050gns (£2152.50) sired by M Gallagher's 'Cap' out of P Brown's 'Fly' to Messrs Brown Peebles.
Hugh Johnstone from Turriff sold 'Cap' a 2 ¼ year old black & white dog for 2000gns (£2100.00) to M/S Halliday, Lockerbie
Another at 2000gns (£2100.00) was Brain Strachan's 'Bill' a 2 year old black & white rough coated dog to Mr Gallagher

Next at 2000gns (£2100.00) was from Irish Consignor W Gallagher, Co Donegal for 'Craig' a Tricoloured 2 ¾ year old dog to J Roberts, Wales.
R Wilson Aberfeldy sold his black & white unregistered bitch 'Susie' at 1950gns (£2047.50) to M/S Thomson Kelso
Welsh consignor DI Morgan Aberystwydd sold 'Chip' a Tricoloured 2 year old dog at 1900gns (£1995.00) to M/S Barker Moffat.
Registered Dogs to 3000gns averaged £1745.00
Unregistered Dogs to 2000gns averaged £1230.00
Part Broken Dogs to 1400gns averaged £920.00
Pup to 210gns averaged £147.00
---