A bitterly cold March morning did not deter buyers from throughout the UK attending Cumberland & Dumfriesshire Farmers Mart's Spring Sale of 78 Working Collies and Pups at Moffat on Saturday 9th March 2013.
Broken dogs met keen competition whilst part broken met a steadier trade.
A Strong contingent of Irish Dogs were forward and lead the day's trading at 3100gns (£3255) with Tess a 2 Year Old Black & White Bitch shown by Liam Kelly of Dungiven. This late entry bitch was sired by AP Gallagher 'Jimmy' out of G Montgomery 'Tess'.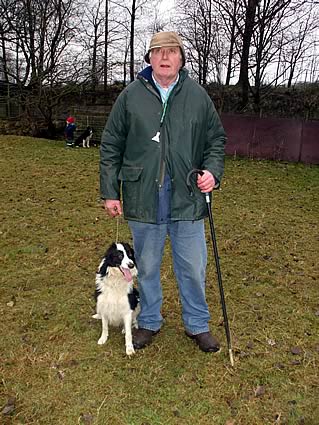 Top Price Mr Kelly with Tess 3100gns
Next at 2700gns (£2835) was paid for County Donegals Semus Robinson 'Cap' a 3 Years 10 month Old Tricoloured Dog by D Mullaney's 'Flash' from K McFadden 'Fly'
Followed by 2400gns (£2520) for 'Ben' a Black & White (2 Year 4Months) Dog from O McLauchlin, Co Donegal by J Travers 'Moss' out of J Traves 'Jan'
Also selling at 2400gns (£2520) was 'Malto Bob' an August 2011 born Black & White Dog shown by Eamon McAuley, Co Antrim sired by E McAuley's 'Ben' out of C Thomas 'G Low'
O McLauchan, Co Donegal sold 'Roy' a 4 Year Old Black & White Dog at 200gns (£2100) by J Traves 'Moss' out of J Traves 'Jan'
Averages:
Broken Dogs (Registered) to £3255 ave £1896
Part Broken Dogs (Registered) to £1260 ave £693
---