The Cumberland & Dumfriesshire Farmers Mart P.L.C. had forward 103 prime cattle, 3 young bull, 23 OTM cattle, 3,610 prime lambs and 5,907 cast ewes & rams at their weekly sale at Longtown on Thursday 7th August, 2008.
There were more clean cattle on offer. Bullocks averaged 159.9p (up 5p), heifers averaged 145.17p (-0.6p). Top price of 180.5p, 179.5p for Limousin bullocks from A Irving, Toppin Castle, others to 177.5p High Stenries and Faulding Cleugh, 176.5p Faulding Cleugh, 174.5p Becton Hall & Faulding Cleugh, 172.5p Faulding Cleugh, 170.5p Hallburn. Charolais bullocks from J W Vevers, High Stenries sold to 180.5p, 176.5p, others to 173.5p Upper Tinwald. Belgian Blues to 169.5p Houghton House.
Limousin heifers to 173.5p Crawsknowe followed at 170.5p, 168.5p Crookholm, 162.5p North Greenhill. Charolais heifers 165.5p, 159.5p High Stenries.
Young bulls to 149.5p for Limousin from Becton Hall.
The OTM cattle met a sharper trade with Blonde cows to 117.5p Burnside (£716), Limousin 114.5p Wyseby Hill Cottage, 112.5p, 111.5p The Throp. Black & White cows to 108.5p Southlambhill, 106.5p Townhead, 104.5p Scotsfield, Belgian Blues 106.5p Highparkfoot. Angus bulls to 100.5p (£1075) Raeburnhead.
The champion young handler's prime lamb, a Beltex shown by Harry Hope, Albierigg, Canonbie with his father David Hope.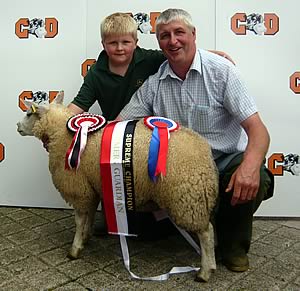 The prime lambs met a flying trade to a full ring of buyers and averaged 133.6p.
Included in the sale was the annual young handlers competition kindly sponsored by Farmers Guardian and the classes were ably judged by Mr. Steven Stoddart, Hillside, Wigton. There was an outstanding entry of 89 individual lambs forward for show with the quality of lambs a credit to the exhibitors. The championship was awarded to a Beltex lamb consigned by Master Harry Hope, Albierigg, Canonbie (whose brother Tom won last year). The lamb scaled at 41kg and realised £118 (287p/kg) to Mr & Mrs B Robb, of the Robin Hood Inn, Smithfield, Carlisle. The reserve champion was awarded to Master Steven Brough, Old Rectory, Kirkbampton who had a 43kg Beltex lamb selling at £88 (204p/kg) to the judge Steven Stoddart.
Principal awards and prices were:-
Class 1 – up to 7 years old
1st & champion – Harry Hope, Albierigg – 41kg - £118
2nd Harry Bouch, Copperthorns – 36kg - £68
3rd Alex Byers, Cubby Hill – 38kg - £68
Class 2 – Age 8 – 11
1st Thomas Hope, Albierigg – 39 kg - £76
2nd Joseph Bouch, Copperthorns – 41kg - £74
3rd Ian Carlisle, Nether Dargavel – 43kg - £72
Class 3 – Age 12 – 16
1st & reserve Steven Brough, Old Rectory – 43kg - £88
2nd Andrew Brough, Old Rectory – 43kg - £75
3rd Sam Borgogno, Copperthorns – 41kg - £64
Others sold to £74 Rory Beard, £73 Rebecca Morgan, £72 Sam Beard, £70 John Wigham, £70 Louise Brough.
Also include was a show on behalf of Longtown Young Farmers which was sponsored by Tarff Valley Feeds and again judged by Steven Stoddart.
Results :-
Best pair lambs 1st R. Carrthers, Glenzierfoot – 48kg - £90
2nd J Graham, Laws Hall – 43kg - £67
3rd R Edminson, Middle Farm – 37kg - £57
Best dressed lambs – 1st J Graham, Laws Hall – 43kg - £67
2nd R Edminson, Middle Farm – 33kg - £50
3rd R Carruthers, Glenzierfoot – 54kg - £90
Outwith these events the lamb trade remained buoyant all day. Bleu de Maine £56.80 Burnside; Charollais £58.20 Sceughdyke, £56.20 Wydon; Halfbred £54 Dodgsonstown; Greyface £57.20 Nunscleugh, £56.20 Harelawhill, £54.20 The Flatt; Blackface £50 Coshogle, £47.20 Penpeugh; Swaledale £43.20 Howburn; Beltex £73 Whitehill, £70 Riggshield, £64 Whitehill; Lleyn £51 Meikle Richorn; Zwartbles £63.80 Old Wall, £62 Glebelands; Texels £67 Smalmstown; Suffolk x £66.80 Roanstree, £63 Swainsteads, £62.80 Derwent House.
The lightweight lambs were a larger show with well fleshed types still sought after, Suffolks £48.80 Lustruther, £45.80 Murtholm; Texels £53 High Chesters, £48 Windyhill; Greyface £44 Grove & Stackbraes; Blackface £37.80 Caberston; Swaledales £41.80 Burnhouse; Beltex £58 Whitehill; Shetlands £34.20 Cardewlees.
The cast ewes and rams were the largest show of the season, all buyers were present with trade just as dear as ever. Top was £80 for heavy Texel ewes from Roadside, £78.50 Stonehouse, £78 Stackbraes; Suffolks £62.50 Raodside & Waterloo; Charollais £77.50 Roadside; Beltex £75.50 Roadside, £70.50 Kirkton; Suffolk £65.50 Roadside, £62.50 Ballyclare & Gospel Hall; £61.50 Tiffenthwaite & Newry; Halfbreds £61.50 Winterhope; Cheviot Mules £54.50 Inglewood Edge; Leicesters £59.50 Albierigg, £57.50 East Unthank & Low Carry House; North Country Cheviots £59.50 Waterloo, £57.50 Earlside; Greyface £50.50 Minto Kames £50 Low Carry House; Lleyns £46.50 Satchells.
Hill ewes to £45.50 for Cheviots from Stobo Home & Milsington; Blackfaces £38.50 Albierigg, £37.50 Penpeugh, Ladyhousesteaeds, £35 Harrow. Swaledales £35.50 Fellview, £34.50 Roachburn, £33.50 Nunscleugh.
Rams to £71.50 for Leicesters from Newbiggin Walls, Texels £65.50 Fellview, £65 Draperstown, Suffolks £64.50 Derwent House, £60 Newry; Charollais £60.50 Roadside; Cheviots £46.50 Waterloo; Beltex £64.50 Newry; Blackfaces £31.50 Upper Hindhope.
Averages:

Steers
Light to 149.5p (132.0p)
Medium to 177.5p (157.1p)
Heavy to 180.5p (161.8p)
Heifers
Light to -------p (-------p)
Medium to 148.5p (138.2p)
Heavy to 173.5p (147.7p)
Young Beef Bulls to 149.5p (134.1p)
Lambs
Light to 180.0p (132.4p)
Standard to 194.8p (134.1p)
Medium to 287.8p (133.8p)
Heavy to 187.5p (132.2p)
O/Weight 166.6p (129.4p)
Ewes
Light to £45.50 (£21.99)
Heavy to £80.00 (£42.32)
Cast Rams £71.50 (£45.91)

---