The Cumberland & Dumfriesshire Farmers Mart P.L.C. had forward 71 prime cattle, 1 young bulls, 19 OTM cattle, 4,956 prime lambs and 5,468 cast ewes & rams at their weekly sale at Longtown on Thursday 4th December, 2008.
It was the annual Christmas prize show and sale for prime cattle and numbers were short due to the adverse weather conditions. The sale was kindly sponsored by Jobsons Animal Health, with a special prize donated by Nutrivet CF for the champion & reserve. The show was judged by S Ramsay, Falside who was presented with a nice show of clean cattle on offer. The champion was a Belgian Blue cross heifer shown by J Retson & Son, Gardrum, selling at 260p and purchased by the judge S. Ramsay.
The reserve champion was a Limousin heifer from W & W Faulder, Houghton House selling at 225p to Messrs Malone, Edinburgh. The best British beast was a Belted Galloway bullock from G & A Scott, Summerhill and purchased at 200p by W Kirkup, Butcher, Longtown.
Champion - a Belgian Blue cross heifer shown by J Retson & Son, Gardrum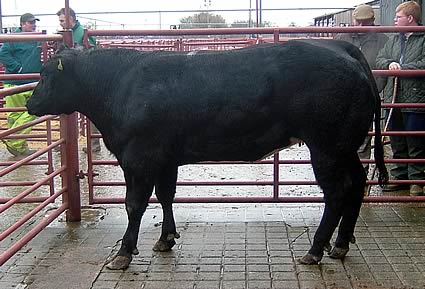 Full prize list as follows:-
Limousin bullock 1st Fenton 179.5p to W Kirkup, 2nd Gardrum to 170.5p to Scotbeef.
Charolais bullock 1st High Stenries 173.5p to Messrs Malone, Edinburgh
Any other continental bullock 1st Houghton House 187p to Border Meats, 2nd Hallburn 177.5p to J Scott, Paisley.
Any British beast 1st Summerhill 200p to W Kirkup, 2nd Skitby 158.5p Robin Hood, Smithfield.
Limousin heifer 1st Houghton House 225p to Malones, Edinburgh, 2nd Hallburn 185.5p to Border Meats
Charolais heifer 1st High Stenries 189.5p to Border Meats, 2nd Hallburn 179.5p to Messrs Jewitt, Spennymoor
Any other Cont heifer 1st Gardrum 260p to S Ramsay, 2nd Hallburn 189.5p to Border Meats.
Champion pen of lambs with Wick Wilson from Jobsons Animal Health, Jack Lawson, Kirkland Green, John Mitchell, Dunbia (judge)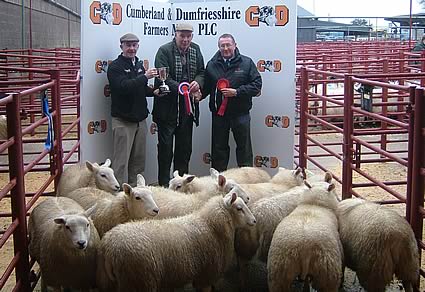 It was also the annual Christmas show and sale of prime lambs with 40 pens of lambs forward for the show. This was also kindly sponsored by Jobsons Animal Health with special prize from Nutrivet CF. The show was judged by Mr J Mitchell of Dunbia who awarded the championship to a pen of Texel lambs from Messrs Lawson, Kirkland Green. The lambs scaled at 40 kilos and sold at £66 to Mr. Jason Tucker. Reserve Champion was awarded to Messrs Buyers Cubbyhill also for Texel lambs.
The full list of prize winners were:-
Texel lambs 1st & Champion Kirkland Green 40kg at £66 to J Tucker, 2nd & Reserve Champion Cubbyhill 43kg at £68 to J Tucker, 3rd Cubbyhill 40kg at £64 J Tucker.
Beltex lambs 1st Mouldy Hills 43kg at £90 J Tucker, 2nd Clementleazes 43 kg at £83 J Tucker.
Other Cont Lambs 1st Kirkland Green 45kg at £64 Dunbia
Suffolk x lambs 1st Sceughdyke 46kg at £61 to RJ Vevers
Greyface lambs 1st Castlemilk 43kg at £57 Dunbia, 2nd Spoutbank 42kg at £56 A Dawson
North Country Cheviot lambs 1st Kirkland Green 45kg at £58 Dunbia.
South Country Cheviot lambs 1st Naddle 40kg at £54 Dunbia, 2nd Naddle 40kg at £54 R Eardley
Blackface lambs 1st Castlemilk 37kg at £53 RT Booth, 2nd Sorbie 41kg at £55 Woodhead Bros.
There was a large ring of buyers present for the sale which ensured the best trade since the Spring time. The 3369 over 36kg averaged 133.4p with the 1587 under 36kg averaging 129.6p. The overall average was 133.8p.
The sale was topped at £90 for the 1st prize Beltex from Mouldy Hills which were also 209p/kg. Other prices out of the show were as follows: other Beltex £60.80 Craigdhu; Suffolk £70, £67.80 Sceughdyke, £67.80 Tinnis Hall; Cheviots £58.80 Thomas Telford, £57.20 Catslackburn, £54.20 Thomas Telford; Texels £70 Miller Hill, £67.20 Nether Albie; Charollais £61.20 Sceughdyke, £58.80 Hallburn; Halfbreds £52.20 Earlside £51.20 Stackbraes; Greyfaces £59.20 Farneyshield, £59 Riggheads, £58.20 Westforeshield; Cheviot Mules £54.80 Falnash, £52.20 Commonside; Blackfaces £60 Boreland; North Country Cheviots £56.80 Haithwaite, £54.20 Faulding Cleugh; Jacobs £49.80 Copperthorns & Craigdhu; Zwartbles £60 Miller Hill; Kendal Roughs £62 Crawsknowe; Cambridge £56.20 Dyke.
Light lambs to £51.80 for Texels from Jerriestown, £50.20 Skelfhill; Suffolks £42.80 Broadhaugh, £39.80 Beechcroft; Cheviots £47.80 Johnstone Bank, £46.80 Brookfield & Beechcroft; Bleu de Maines £48.20, £47.20 Solwaybank; Greyface £49.20 Brookfield, £47.80 Burnhouse; Blackfaces £49.20 Castlemilk & Margaret Drive, £47.20 Westloch; North Country Cheviot £51 Haithwaite, £49.20 Haithwaite; Swaledales £37.20 The Bog, £35.20 East Unthank; Jacobs £36.80; Oxfords £50.20 Guards; Shetlands £30.80 Cauldronlea.
The prime ewes were another large show which met the dearest trade for sometime. All classes of ewes sought after from a full ring of buyers, the sale was topped at £80 for Texels from East Mains, others to £76.50 Ballyrobert & East Mains; Suffolks £68.50 Drinkstone, £67.50 Lintlaw, £65.50 Severs Road; Bleu de Maines £63.50 Roadside; Charollais £61.50 Seavers Road, £60.50 Cornerhouse & Seavers Road; Halfbreds £65.50, £64.50 Wester Middleton, £58.50 Longways; Greyface £56.50 Clement Leazes, £55.50 Wester Middleton & Lintlaw, £54.50 Keepwick; Cheviot Mules £55.50 Langton Mill, £52.50 High Stenries, £51.50 Hallburn; Leicesters £58.50 Derwent House, £48.50 Whitton; North Country Cheviot £58.50 West Whatton, £56.50 Whitton.
Hill ewes to £49.50 for Blackfaces from Tone Hall who sold others to £44.50, £39.50 Tenterhouse & Boreland; Swaledales £34.50 Holehouse, £33.50 Whitton; Herdwicks £28.50 Low Stowbank; Shetlands £35 Ballyclare; Cheviots £45.50 Terrona, £42.50 Winterhope; £41.50 Abbey Saint.
Prime rams to £73.50 for Texels from Clement Leazes, £69.50 Boreland, £57.50 Seavers Road; Suffolks £71.50 Lintlaw, £57.50 Thomson Close; £55.50 Roadside; Cheviot £45.50 Whitton; Charollais £60.50 Winterhope; Leicesters £63.50 Gapshield, £61.50 Stonehall; Blackfaces £47.50 Tone Hall, £41.50 Thomson Close; North Country Cheviots £70.50, £57.50 Whitton; Beltex £59.50 Seavers Road, £50 Flagstaff; LLeyns £50 Corner House; Dorsets £40.50 Seavers Road.

Averages:
Steers
Light to 149.5p (149.5p)
Medium to 200.0p (162.3p)
Heavy to 179.5p (159.9p)
Heifers
Light to -------p (-------p)
Medium to 225.0p (183.9p)
Heavy to 260.0p (164.8p)
Young Beef Bulls to 126.4p (126.4p)
Lambs
Light to 144.0p (119.8p)
Standard to 170.0p (136.1p)
Medium to 209.0p (134.9p)
Heavy to 143.0p (127.7p)
O/Weight 128.0p (111.3p)
Ewes
Light to £49.50 (£26.40)
Heavy to £80.00 (£44.31)
Cast Rams to £73.50 (£42.98)
Reserve champion from W & W Faulder, Houghton House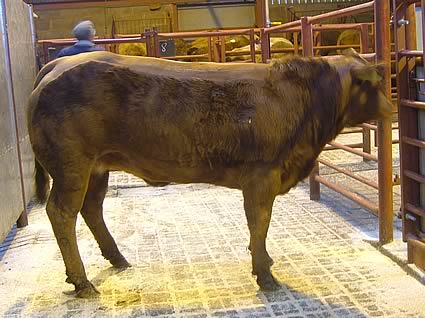 Best British Breed from G & A Scott, Summerhill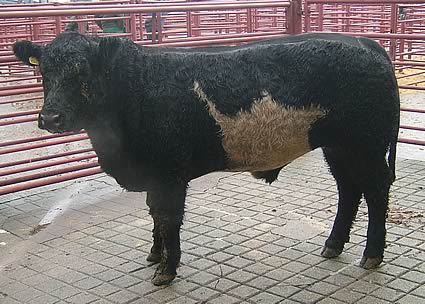 James Retson receiving W Amstrong, Silver Challenge Trophy
from Stuart Ramsay, Judge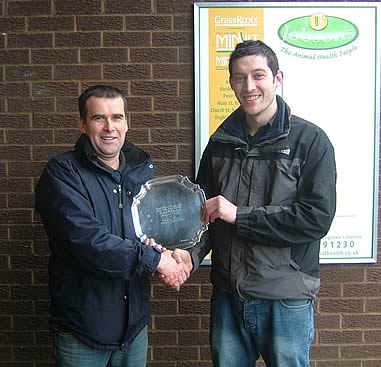 ---