The Cumberland & Dumfriesshire Farmers Mart P.L.C. had forward 91 prime cattle, 34 OTM cattle , 3268 prime hoggs and 4644 cast ewes & rams at their weekly sale at Longtown on Thursday 26th February, 2009.
All classes of clean cattle were sharper. Top was 199.5p for a Belgian Blue heifer from Messrs Blaylock, Hallburn and purchased by Messrs Nattrass, Carlisle, others from the same to 187.5p. Limousin 185.5p, 179.5p Hallburn; Charolais 183.5p Hallburn, 177.5p Sceughdyke.
Belgian Blue bullocks to 184.5p Hallburn; Limousin 182.5p Dashwellgreen, 180.5p Houghton House, 179.5p, 178.5p Corby Castle, 177.5p, 175.5p The Gill; Blondes 178.5p Corby Castle.
A smaller show of OTM were also dearer on the week. 6 Continental cows form Hallburn sold to £1081 averaging £998. Limousin cows 148.5p, 145.5p Hallburn, 139.5p, 134.5p Copperthorns; Simmental 140.5p, 138.5p, 133.5p Hallburn; Friesian 116.5p Becton Hall, 113.5p Stubb & Evertown; Blonde 113.5p Blackhouse; Angus 102.5p Sorbie; Holstein 109.5p Southlambhill. Limousin heifers to 149.5p Copperstones; Angus 137.5p, 135.5p Barnglies.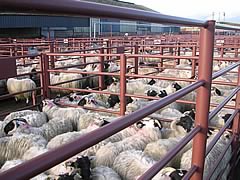 Prime hoggs were a smaller show due to the ease in price early in the week, however all vendors enjoyed a marvellous trade with averages unchanged on the week at 166.8p overall.

Top was 204p for Beltex hoggs from Black Hamilton. Top price per head was £108.50 for Texels from Orchardton Mains, who sold others at £105.50, £98.50 Smalmstown; Suffolks £91.70 Upper Mains, £90.20 Fellendm £89.50 Smalmstown; Cheviots £78.20, £77.50 Becks, £75.70 Earlshaugh; Charollais £77.80 Sceughdyke; Greyface £78.20 Sceughdyke, £76.80 Stotsfold, £74.80 Sandbed; Cheviot Mules £74.80 Sceughdyke; Leicesters £66.50 East Mains, £65.20 Nookton, £63.50 The Bog; Blackfaces £77.50 Kirksteads, £77.20 Caberston, £76.80 Smalmstown; North Country Cheviot £78.20 Sceughdyke, £74.80 Winterhope, £72 Sceughdyke; Swaledale £63.80 Stotsfold, £63.20 Street House; Herdwicks £69.20 Beechcroft, £67.80 West Head; Beltex £76.50 Blackhamilton, £75.90 Townhouse, £71.70 Townhouse; Zwartble £75 Wydon Eals.

Lightweight hoggs also easily upheld last weeks trade to average 162.3p overall. Top was £69.20 for Beltex from Blackhamilton; Suffolks £63.20 Kirkwood Mains, £60.20 Eastfield of Wiston; Cheviots £61.70 Becks, £59.20 Skelfhill; Texels £68.70 Thornthwaite Close, £65.20 Castle Nook, £63.20 Kirkwood Mains; Greyfaces £58.80 Cocklet Hill, £57.20 Kirkwood Mains & Croft House; Blackface £63.80 Smalmstown, £58.70 Horseholm & Pitland Hills; North Country Cheviots £57.80 Folly; Swaledales £51.70, £46.50 Williamston; Herdwicks £54.50 Cardewlees; Lleyn £57.70 Chipknowe.

The cast ewes and rams easily maintained last weeks high rates with all buyers operating. Top was £109.50 for Charollais ewes from Ballyclare who sold others to £92.50 Ballyclare, £86.50 Ballinliss; Suffolks £106.50 East Cliff, £100.50 6 Forss & Sceughdyke, £100 Severs Road; Suffolk x £98.50 Ballyclare, £94.50 Stackbraes, £93.50 Ballyclare & Ballinliss; Texels £107.50 Crookholm, £101.50 Ballyclare, £98.50 Flass; Halfbreds £88.50 Candybank; Greyface £77.50 Rockcliffe Cross, £75.50 Aikton & Sceughdyke; Cheviot Mules £72.50 Stackbraes, £68.50 Mossband House; Leicesters £88.50 The Bog & East Mains, £83.50 Miller Hill; North Country Cheviot £88.50 Carruthers, £86.50 Maxton, £78.50 Ballyrobert; Beltex £84.50 Roadside, £78.50 Ballyclare; Lleyns £69.50 Walker, £64.50 Chipknowe; Romney Marsh £66.50 Stackbraes.

Lightweight ewes to £63.50 for Blackfaces from Sundhope, £59.50 Smalmstown, £58.50 Glenshanna; Cheviots £62.50 Hassendeanburn, £59.50 Priesthaugh, £58.50 Winterhope; Swaledales £50.50 Spoutbank, £47.50 Westforeshield, £46.50 Roachburn; Herdwicks £33.50 Cobblecroft; Shetland £27 East Mains.

Rams to £102.50 for Texels from Orchardton Mains, £96.50 Ballyclare, £88.50 Ballinliss; Suffolks £80.50 Standingstonerigg; Cheviots £66.50 Priesthaugh, £53.50 Becks; Bleu de Maine to £54.50 Severs Road; Charollais £87.50 Streethead, £80.50 Winterhope; Leicesters £89.50 Waltonhighrigg, £72.50 Drinkstone; Blackface £58.50 Low Moat, £55.50 Earlshaugh; North Country Cheviot £91.50 Overacre; Swaledale £46.50 Roachburn; Beltex £64.50 East Mains; Lleyn £62.50 East Mains; Zwartbles £52.50 East Mains; Romney Marsh £72.50 Lydden.

Averages:

Steers
Light to 144.5p (137.2p)
Medium to 178.5p (156.2p)
Heavy to 184.5p (166.5p)

Heifers
Light to ------p (-------p)
Medium to 183.5p (156.3p)
Heavy to 199.5p (160.9p)

Hoggs
Light to 202.0p (154.9p)
Standard to 204.0p (169.9p)
Medium to 197.0p (171.3p)
Heavy to 193.0p (159.5p)
O/Weight ------p (-------p)

Ewes
Light to £63.50 (£37.11)
Heavy to £109.50 (£68.22)

Cast Rams to £102.50 (£58.92)
---