The Cumberland & Dumfriesshire Farmers Mart P.L.C. had forward 63 prime cattle, 44 OTM cattle, 6,281 prime hoggs and 3,417 cast ewes & rams at their weekly sale at Longtown on Thursday 2nd April, 2009.
Although more heavyweight cattle were on offer, trade was similar to last week good rates. Top price of 185.5p, 174.5p for Belgian Blue bullocks from Corby Castle Estates, others to 171.5p The Gill. Limousin 179.5p, 178.5p, 177.5p, 176.5p, 175.5p Corby Castle, others 174.5p Hallburn, 173.5p The Gill; Charolais 175.5p Corby Castle. Charolais bullocks to £1322 from Sceughdyke. Charolais heifers 178.5p Upper Mains; Limousin 171.5p Gardrum.
The Over-Thirty-Month cattle on offer saw the dearest trade this season with Angus cows from Burnfoot on Esk selling to 151.5p, 149.5p, 148.5p, 146.5p, 141.5p. Limousin 137.5p, 136.5p, 129.5p, 127.5p, 126.5p, 125.5p Burnfoot on Esk, 135.5p Harelawhill, 125.5p Roachburn; Friesian 136.5p Peterscrook, 127.5p Riddings, 126.5p Peterscrook, 125.5p Southlambhill; Charolais 129.5p Mosside & Burnfoot on Esk; Belgian Blue 111.5p Cadgillhead; Shorthorn 109.5p Midtodholes. Angus heifers 145.5p Bush of Ewes. Angus bullocks 141.5p Bush of Ewes.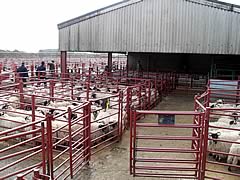 An excellent show of hoggs with a full ring of buyers and the forthcoming Easter holidays ensured the best trade seen anywhere for many years. The 3,626 over 36kg averaged 199.8p and the 2207 under 36 kg averaged 189p, also forward were 448 store type hoggs. The overall sale average was 197.1p with 25 pens of hoggs realising £100 or more, topping at £123.50 for Texels from Mindork and to 265p for Beltex from Messrs Stoddart, Hillside. Other Texels £110.50 Maidencoates, £107.50 Sherra Craig; Suffolks £104.50 Stackbraes, £102.50 Maidencoates, £101 Stackbraes, £100 Mid Auchterlure; Cheviots £99.20, £96.50 Fingland, £92.50 Becks; Bleu de Maines £90 Branteth; Charollais £97.50 Mindork, £93.50 Thackwood, £92.50 Leaona Villa; Greyface £90.50 Hudspeth, £89.50 Allensgreen, £87.20 Netheralbie; Cheviot Mules £83.20 Arkleton, £81.80 Pasturewood, £79.80 Granton; Leicesters £90.50 Southlambhill, £77.50 Branteth, £76 Newton; Blackfaces £93.80 Smalmstown, £93.50 Stackbraes, £91.20 Smalmstown; North Country Cheviot £104.50 Oakwell Road, £100 Woodhall, £97.80 Oakwell Road; Swaledale £79.80 Smalmstown, £70 Aimshaugh; Herdwicks £74.50 Rowhead; Beltex £122 Newton, £114.50, £110.50, £109.50 Hillside.
Lightweight hoggs to £84.80 for Beltex from Naddle; Soya £62.50 West Glengyre; Jacob £63.80 South Port of Spittal; Herdwicks £63.50 Rowhead, Swaledales £60.50, £59.80 Rydal; Suffolks £70 Castle Nook, £69.20 Blackhills, £64 Achow; Cheviots £78.20 Bloch, £76.20 Becks & Shawhead; Texels £73.80 Bush of Ewes, £73.50 Wallholm, £71.50 Newington; Greyface £67.20 The Mark, £65.80 Crawfordjohnmill; Blackface £69.80 Todhillrigg, £67.20 Kilfinnan, £63.80 Waterside; North Country Cheviot £74.80 Harelawhole, £71.80, £69.20 Kilfinnan.
Hoggs price per kilo:
17-25.4kg Texel 171p Hudspeth.
25.5- 32kg – Suffolk 190p Newington; Cheviot 217p Unthank, 208p Crawsknowe, 200p Catslackburn; Texels 218p Newington, 205p Catslackburn, 203p Crawfordjohnmill & Raggetsyke; Greyface 184p Castlenook; Blackface 199p Bush of Ewes; North Country Cheviots 215p Whins, 213p, 203p, 200p Kilfinnan; Herdwicks 183p Rowhead; Beltex 213p Jerriestown.
32.1-39 kg – Suffolks 210p Swaites, 209p The Mark, 207p Newtown & Castle Nook, 206p Castle Nook, 205p Langholm; Cheviot 224p Becks, 217p Bloch, 214p Shawhead, Becks, Bloch & Underwoodhouse; Texel 218p Castle Nook, 211p Chapelknowe & Bush of Ewesm 210p Wallholm; Charollais 203p Barrasgate; Greyface 206p Clonrae; Cheviot Mules 210p Pasturewood; Blackface 209p Southlambhill & Smalmstown, 206p Todhillrigg; North Country Cheviot 221p Whins, 218p, 217p Oakwellroad, 216p Whins; Swaledale 173p Shankfieldhead, 172p Cooilingel; Herdwicks 191p, 189p Rowhead; Beltex 240p Hillside, 236p Naddle, 227p Cooilingel.
39.1-45.9kg – Suffolk 215p Kirtlebank, 210p Crawfordjohnmill, 208p Blackhills; Cheviot 211p High Knells, 210p Smalmstown, 209p Potholm, 207p Wicketthorn; Texel 218p Oakwell Road, 215p Mindork, 214p Clonrae; Charollais 200p Barrasgate; Greyface 200p Crawfordjohnmill, 198p Netheralbie, 195p Prior Rigg; Cheviot Mules 208p Arkleton; Blackface 207p, 203p Smalmstown; North Country Cheviot 222p Oakwell Road, 217p Blackrigg & Oakwell Road, 216p Oakwell Road; Swaledale 171p Aimshaugh; Beltex 265p Hillside, 222p Cooilingel, 202p Riggshield; Lleyn 207p Naddle; Kendal Roughs 200p Bush of Ewes.
46kg + Suffolk 194p Stackbraes, 186p Pasturewood; Cheviot 205p, 198p Fingland, 193p Becks; Texel 213p Mindork, 211p Sherra Craig, 210p Clonrae, 208p Netheralbie, 205p Stackbraes; Charollais 207p Mindork; Greyface 197p Hudspeth; Blackface 204p Smalmstown; North Country Cheviot 213p Oakwell Road, 208p Woodhall; Swaledale 170p Smalmstown; Beltex 228p , 220p, 217p Hillside, 209p Newton.
Another quality show of cast ewes and rams were forward meeting a fast trade selling to a top of £128.50 for Suffolks from Roadside and Texels from Hamlet. 394 ewes sold at £100 or more with the overall sale average being £70.14.
Suffolks £128.40 Roadside, £126.50 Railway, £124.50 Roadside, £120.50 Cardew Hall, £114.50 Ballinliss, Mid Auchterlure; Texels £128.50 Hamlet, £117.50 Roadside, £114.50 Cardew Hall & Winterhope; Bleu de Maines £117.50 Severs Road; Rouge £90 Seavers; Charollais £118.50 Westerparkgate, £110.50, £103.50 Hamlet; Halfbreds £94.50 Candybank; Greyface £86.50 Hallburn & Copperthorns, £85.50 Newtown; Cheviot Mules £74.50 Severs Road; Leicesters £104.50 Railway, £88.50 Raggetsyke; North Country Cheviot £90 Stackbraes; Beltex £67.50 Newton; Dorsets £76.50 Porpeath.
Light ewes to £80.50 for Cheviots from Unthank, £74.50 Burnfoot of Ewes, £72.50 Haithwaite; Blackface £74.50 Cooilingel, £70 Chapel, £69.50 Penchrise, £68.50 Tecket; Swaledale £60.50 Hammershields, £59.50 Howburn, £54.50 West Greenridge, High Aketon.
Prime Suffolk rams to £122.50 Hamlet, £110.50 Roadside, £106.50 Mid Auchterlure, £100 Cleughbraemill; Cheviots £76.50 Stackbraes; Texels £120.50 Seavers, £118.50 Hamlet, £113.50 Copperthorns; Charollais £90.50 Seavers; Leicesters £92.50 Clonrae, £82.50 Granton; Blackface £65.50 Penchrise, £58.50 Linglie; North Country Cheviot £71.50 Over Kirkhope; Swaledale £61.50 Croglin Low Hall; Lleyn £107.50 Stackbraes; Oxford £115.50 Guards.
Averages:
Steers
Light to -------p (-------p)
Medium to 178.5p (169.3p)
Heavy to 185.5p (165.1p)
Heifers
Light to ------p (-------p)
Medium to -------p (-------p)
Heavy to 178.5p (159.9p)
Young bulls to -------p (-------p)
Hoggs
Light to 218.0p (182.8p)
Standard to 240.0p (197.9p)
Medium to 265.0p (202.9p)
Heavy to 228.0p (192.8p)
O/Weight ------p (-------p)
Ewes
Light to £80.50 (£45.19)
Heavy to £128.50 (£81.25)
Cast Rams to £122.50 (£72.78)
---