The Cumberland & Dumfriesshire Farmers Mart P.L.C. had forward 71 prime cattle, 11 OTM cattle, 2,514 prime hoggs, 1,153 prime lambs and 3,347 cast ewes & rams at their weekly sale at Longtown on Thursday 11th June, 2009.
A plainer show of prime cattle were sharper on week to a top of 183.5p for a Limousin bullock from J.C. and D. Nicholson, The Gill, others to 175.5p, 174.5p, Toppin Castle, 174.5p, 173.5p The Gill; Belgian Blues to 179.5p from J.F. & S.J. MacDonald, Ladyhousesteads, 178.5p The Gill; Charolais to 176.5p & 172.5p from T. Armstrong & Sons, Sceughdyke. Limousin Heifers from A.& W.J. Taylor & Son, Dashwellgreen sold to 182.5p, 181.5p & 179.5p, others to 178.5p Toppin Castle; Belgian Blue to 179.5p from J.F. & S.J. MacDonald, Ladyhousesteads, 176.5p Toppin Castle.
Over Thirty Month cattle were well short of requirements with Belgian Blues to 155.5p Ladyhousesteads; Angus 137.5p, 131.5p Archerbeck; Blonde d'Aquitaine 135.5p Gallowberry; Limousin 115.5p Gallowberry. Belgian Blue bullocks to 131.5p Burnside.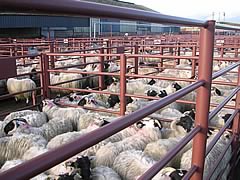 A larger show of 1,153 spring lambs were forward and sold slightly easier on the week, to average 182.6p, which was in line with the rest of the country. Best sorts were easily sold with the best lambs around £2 kg.
Top price per kilo went to Messrs Sutherland, Carran with Texels at 253p, who also had top price per head of £96.50 again for Texels. Other Texels £89.80 Broomhills (Armstrong), £86.80 Whins; Suffolk £91.20 Swainsteads, £89.50 Rosefield, £86 Parcelstown; Hampshire £79.20 Whitedyke; Charollais £74.80 Newington, £73.20 Brocklewath.
A larger show of prime hoggs for the time of year were forward with 2,514 forward. A mixed show for quality saw the best fleshed hoggs making around 140-160p, with plainer sorts harder to cash. Top price per head was for Texels at £77.50 from Mr Park, Wetherhill, others £75.50 Burnside; Beltex £70 Mouldy Hills; Greyface £67.50 Stackbraes; Suffolk £67.20 Lydden Court, £65 The Mark; Charollais £64.80 Lydden Court; North Country Cheviot £57.80 Broomhills (Marrs).
Another large show of 3,347 cast ewes and tups were forward to the usual ringside of buyers. All classes maintained recent high rates, with 116 ewes selling at £100 or more. Top price per head of £138.50 for Texel rams from Ballyclare, others £124.50, £120.50 Smalmstown, £120.50 Severs; Suffolk £118.50 Ty-llwyd, £108.50 The Bungalow; Charollais £110.50 Skinnet; Oxford £110.50 Golden Lane; Hill Cheviot £100.50 Ballyclare; North Country Cheviot £96.50 Biggin, £92.50 Naddle; Leicester £90.50 Brownleazes; Blackface £72.50 Albierigg. Heavy ewes sold to £130 for Blue D'Maine from Waterloo; Texel £120.50 Townfoot, £118.50 Burnside, £116.50 Sceughdyke; Suffolk £118.50 Lesson Hall, £108.50 Waterloo; Charollais £108.50 Ty-Llwyd, £96.50 Lesson Hall; Leicester £99.50 Albierigg, £89.50 Brownleazes; North Country Cheviot £87.50 Waterloo, £83.50 Whitton; Beltex £85.50 Ty-Llwyd; Greyface £80.50 Mossband House, £76.50 Sceughdyke.
Hill ewes to £60.50 for Cheviots from Sockbridge Hall; Blackface £57.50 Brownleazes, £53.50 Cumstone & East Mains; Swaledale £56.50 The Throp, £54.50 Whitton.

Averages:
Steers
Medium to 137.5p (137.5p)
Heavy to 183.5p (166.5p)
Heifers
Medium to 181.5p (155.1p)
Heavy to 182.5p (158.9p)

Hoggs
Light to 171.0p (129.7p)
Standard to 166.0p (137.9p)
Medium to 162.0p (138.7p)
Heavy to 152.0p (127.7p)
Shlgs 149.0p (117.6p)
Lambs
Light to 192.0p (189.0p)
Standard to 206.0p (184.2p)
Medium to 210.0p (180.1p)
Heavy to 182.0p (175.8p)

Ewes
Light to £62.50 (£40.00)
Heavy to £130.00 (£68.35)
Cast Rams £138.50 (£75.67)

---