The Cumberland & Dumfriesshire Farmers Mart P.L.C. had forward 81 prime cattle, 40 OTM cattle, 1,201 prime hoggs, 828 prime lambs and 2,474 cast ewes & rams at their weekly sale at Longtown on Thursday 18th June, 2009.
Prime cattle were sharper on the week to a top of 182.5p and 178.5p for Limousin bullocks from J.C. & D. Nicholson, The Gill, others 174.5p Dashwellgreen, 173.5p (x2) Houghton House, 172.5p Dashwellgreen, The Gill and Hallburn; British Blue 181.5p from J.F. & S.J. MacDonald, Ladyhousesteads. Limousin heifers from J. & N. Blaylock & Son, Hallburn to 182.5p, others 179.5p, 178.5p (x2), 176.5p Dashwellgreen; Charolais 176.5p Brydekirk Mains and Hallburn; British Blue 175.5p from G.P. & E.A. Coates, Beckhall.
Over Thirty Month cattle were also sharper with Hereford heifers to 140.5p, 132.5p and 125.5p Horsegills; Angus 138.5p Kilnhill, 137.5p Ryehills; Limousin 135.5p No 3 Stonehouse; Friesian 128.5p Hethermill. Cows to 131.5p for Angus from Cambeck Hill; Shorthorn 121.5p Cambeck Hill; British Blue 119.5p Cambeck Hill; Limousin 115.5p Greensburn; Friesian 111.5p (x2) The Stubb.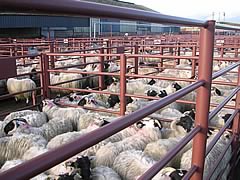 The 828 prime lambs were easier on the week following the national trend, however, best lambs sold above expectations. The sale averaged 163p. Top price per kilo of 209p for Texels from Messrs Edminson, Middle Farm, with top price per head of £86.50 for Suffolks from Messrs Douglas, Swainsteads and also for Texels from Messrs Hastings, Rosehill. Suffolk £86.50 Swainsteads, £78.50 Spoutbank; Texel £86.50 Rosehill, £84.80 Rhoin; Charollais £85.50 Meinfoot, £83.80 Pates Hill; Oxford £65.80 Guards Farm.
A mixed show of prime hoggs with a lot of vendors clearing out their tailenders. Best type hoggs still sold between £8 - £10 above their weight. Top price of £73.50 for Texel hoggs from Messrs Stoddart, Hillside, others £63.50 Winterhope; Beltex £73.50, £61.50 Hillside; Hill Cheviot £65.50 Falnash, £59 Longoe; Suffolk £57.50 Borders, £52.50 The Nook; Blackface £53.20 East Mains, £52.50 The Mark; Greyface £51.50 Hillside; Jacob £43.80 Tundergarth House.
A smaller show on the week of 2,474 cast ewes and rams saw heavy and horned ewes maintaining recent high rates, but fat ewes proving more difficult to cash. Top price of £129.50 for a Texel ram from J.C. & D. Nicholson, The Gill, who also sold two more at £126.50; Charollais £110.50 Castle Drive, £100.50 Bluebell; Leicester £96.50 Tecket; Suffolk £92.50 Borders, £90.50 Castle Drive; Beltex £80.50 Hillside; North Country Cheviot £76.50 Lephinmore; Blackface £61.50 Brown Hill.
Heavy ewes to £118.50 for Suffolk crosses from The Grange and for Texels from Roadside; other Suffolks £117.50 Winterhope; other Texels £114.50 Stackbraes; Charollais £116.50 Roadside; Half Bred £110.50 Bluebell, £100.50 Newbiggin; Beltex £95.50 Abbey Cowper, £90 Smyllum Road; Leicester £91.50 Waterloo; North Country Cheviot £86.50 Bluebell, £85.50 Castle Drive; Cheviot Mule £76.50 Sceughdyke; Greyface £74.50 Winterhope, £72.50 Old Rectory.
Hill ewes to £59.50 for Lleyns from The Height; Hill Cheviot £54.50 Winterhope, £53.50 Twislehope; Blackface £52.50 West Craigs, £49.50 The Nook; Swaledale £52.50, £51.50 Ballywillan; Herdwick £49.50 Genesis.


Averages:
Steers Light to ------p (-------p)
Medium to 163.5p (140.6p)
Heavy to 182.5p (162.3p)
Heifers Light to ------p (-------p)
Medium to 178.5p (169.5p)
Heavy to 182.5p (160.1p)
Young bulls ------p (-------p)
Hoggs Light to 114.0p (100.2p)
Standard to 124.0p (108.3p)
Medium to 124.0p (116.2p)
Heavy to 127.0p (103.6p)
Shlgs 126.0p (105.8p)
Lambs Light to 172.0p (162.0p)
Standard to 209.0p (167.5p)
Medium to 204.0p (159.0p)
Heavy to 177.0p (156.3p)
Overweight 150.0p (148.5p)
Ewes Light to £59.50 (£40.29)
Heavy to £118.50 (£72.25)
Cast Rams £129.50(£68.66)

---