The Cumberland & Dumfriesshire Farmers Mart P.L.C. had forward 47 prime cattle, 3 young bulls, 12 OTM cattle, 863 prime hoggs, 1,622 prime lambs and 3,756 cast ewes & rams at their weekly sale at Longtown on Thursday 25th June, 2009.
Prime cattle were forward in less numbers with trade up 4p on the week. Top price of 187.5p and 185.5p for Limousin heifers from W.H. & M. Sisson & Sons, Fenton and purchased by W. Kirkup & Sons, Butchers, Longtown, other Limousin heifers to 183.5p, 173.5p Hallburn; British Blue 185.5p Fenton; Charolais 172.5p, 170.5p Hallburn, 168.5p Sceughdyke. Top price heifer per head £1,153.13 Fenton.
Limousin bullocks to 177.5p The Gill, 176.5p, 174.5p, 173.5p Hallburn, 169.5p (x2) Houghton House; Blonde d'Aquitaine 173.5p (£1,301.25) The Gill; British Blue 172.5p (£1,302.38) The Gill; Angus 174.5p Smallholms. Top price bullock per head £1,302.38 The Gill. Charolais bulls to 163.5p (£1,218.08), 156.5p (£1,447.63) Sceughdyke.
Over Thirty Month cattle were short of requirements which saw cows meet a strong demand, selling to a top of 113.5p, 111.5p and 104.5p Broomhill; Blonde d'Aquitaine 113.5p Blackhouse; British Blue 111.5p Broomhill; Shorthorn 111.5p Bushfield.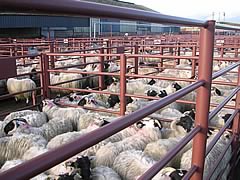 An entry of 1,622 prime lambs was double the numbers of the previous week, selling to a larger than usual ringside of buyers. Despite a falling trade all week, Longtown still managed to average 160.5p, similar to a week past. More heavy lambs could have been sold to advantage with smart Texel lambs in short supply.
The sale was topped at £87.80 for Texels from Messrs Musgrave, Cardew Hall, with top price per kilo going to Texels from Messrs Little, North Greenhill at 205p. Texel £87.80 Cardew Hall, £84.50 Greensburn, £74.20 High Wreay; Suffolk £76.50 Sykehead, £75.20 Copperthorns, £74.20 High Wreay; Greyface £71.80 The Green; Charollais £70.20 Hallburn, £67.80 Culquhasen; Beltex £66.80 Copperthorns.
Also forward was a large show for the time of year of 863 prime hoggs, with quality very mixed. Best meated hoggs still sold between 120p and 140p. Top price per head of £73.50 for Texels from Crosshow, with top per kilo being 140p for Texels from Farmers Close. Blackface £70.50 Blackburn; Suffolk £54.20 Haithwaite; Greyface £53.50 Farmers Close; Hill Cheviot £52.50 Ballyclare.
A larger show of 3,756 cast ewes and rams were presented to the usual ringside of buyers. Trade saw all classes dearer, apart from thick fat ewes. A very good show of Mule ewes saw many pens sell between £74 and £80, and a shortage of horned and plain ewes also saw them dearer.
Rams sold to £128.50 for Texels from The Syke, £126.50 Hamlet Garden; Suffolk £126.50, £119.50 Seavers; Charollais £118.50 Severs; Leicester £112.50 Derwent House; Bleu d'Maine £108.50 Ballyclare; North Country Cheviot £88.50 Dowlaw; Hill Cheviot £78.50 Ty-llwyd; Ryeland £75.50 Roadside; Blackface £66.50 Longyester.
Heavy ewes to £120.50 for Texels from Severs, others £114.50 Crosshow and Roadside; Suffolk £110.50 Lintlaw, £104.50 Ballyclare, £103.50 Golden Fm; Bleu d'Maine £108.50 Golden Fm; Charollais £100 Ballyclare; North Country Cheviot £86.50 Severs; Beltex £86.50 East Mains; Greyface £79.50 Lintlaw, £77.50 Barrackend, £76.50 Longyester; Zwartbles £74.50 Falside Hill.
Hill ewes to £59.50 for Jacobs from Lintlaw; Hill Cheviot £55.50 Westerkirk, £53.50 East Mains; Blackface £54.50 Gall Farm, £51.50 Derwent House; Swaledale £43 Reathwaite, £42.50 Byers Hall.

Averages:
Steers
Light to ------p (-------p)
Medium to ------p (-------p)
Heavy to 177.5p (163.2p)
Heifers
Light to 145.5p (145.5p)
Medium to 159.5p (151.5p)
Heavy to 187.5p (175.1p)
Young bulls 163.5p (155.1p)
Hoggs
Light to 123.0p (101.7p)
Standard to 125.0p (108.4p)
Medium to 140.0p (115.3p)
Heavy to 123.0p (108.4p)
Shlgs 128.0p (101.4p)
Lambs
Light to 172.0p (157.8p)
Standard to 205.0p (159.6p)
Medium to 195.0p (161.0p)
Heavy to 172.0p (157.3p)
Overweight 148.0p (145.3p)
Ewes
Light to £59.50 (£37.02)
Heavy to £120.50 (£69.60)
Cast Rams £128.50 (£72.80)
---