The Cumberland & Dumfriesshire Farmers Mart P.L.C. had forward 53 prime cattle, 21 over thirty month cattle, 2,364 prime lambs and 4,504 cast ewes & rams at their weekly sale at Longtown on Thursday 16th July, 2009.
Prime cattle were overall a poorer show for quality. Top prices of 175.5p, 169.5p and 167.5p for Limousin bullocks from A. & W.J. Taylor & Son, Dashwellgreen, others 165.5p The Gill; British Blue 163.5p J.C. & D. Nicholson, The Gill.
The 21 Over Thirty Month cattle on offer were cheaper on the week with Limousin cows to 115.5p Murtholm, 114.5p Bleatarn; Angus 103.5p Sorbie. Limousin heifers 115.5p Murtholm. Simmental bullocks to 115.5p and 113.5p Murtholm.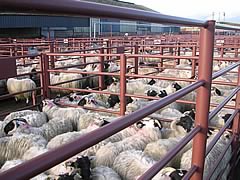 A similar show of 2,364 prime lambs forward saw the dearest trade of the week again, selling to a top of £100 per head for Texels from J.A. Park & Co., Drinkstone and to 209p per kilo for Texels from A.R. Bell, Burnside, Kirkton. Other Texels £90 Burnside, £84 Trough Head; Suffolk £76.20 Demense, £76 Scotby Close; Greyface £71.80 Boreland, £63.80 Albierigg; Charollais £66.20 Sceughdyke, £65.20 Sleetbeck; Half Bred £65.80 High Moat, £62.80 Earlside; Dorset £61.80 Edge Farm; Blackface £60.50 Peela Hill; Lleyn £59.80 Whitcastles; Hill Cheviot £54.80 Kimmeter Green.
The 4,504 cast ewes and rams saw heavy ewes dearer on the week, with good selling ewes dearer and plain ewes less money. The sale was topped at £119.50 for heavy Texel rams from Paulsland, others to £112.50 Distillery House, £104.50 Hamlet Gardens and Seavers; Charollais £96.50, £88.50 Ty-Llwyd; Half Bred £94.50 Waterloo; Suffolk £88.50 Waterloo, £84.50 Hamlet Gardens, £82.50 Hamburn Hall; Leicester £79.50 Nilston Rigg; North Country Cheviot £78.50 Sockbridge Hall, £76.50 Hamlet Gardens; Blackface £62.50 East Mains, £54.50 Macherquhat; Beltex £60.50 The Laurels; Swaledale £42.50 Newbiggin.
Heavy ewes to £116.50 for Suffolks from Crosshow Farm, £114.50 Drinkstone, £108.50 Seavers; Texel £114.50 Drinkstone and Roadside, £112.50 Crosshow and Drinkstone; Leicester £98.50 Newbiggin Walls, £90.50 Low Carry House, £86.50 Bellmount; Beltex £92.50 Hamlet Gardens; Continental £92.50 Walton Woodhead, £78.50 Walloway; Charollais £92.50 Roadside, £88.50 Hamlet Gardens and Ty-Llwyd, £84.50 Hamlet Gardens and Seavers; Rouge £89.50 Hamlet Gardens; Lleyn £84.50 Whitcastles; Half Bred £82.50 Marygate, £79.50 Skaill; Greyface £78.50 Roadside, £74.50 Red House and The Grange, £68.50 Crosshow; Bleu d'Maine £78.50 Lesson Hall and Stackbraes; Cheviot Mule £76.50 Milnholm; North Country Cheviot £72.50 Stackbraes, £68.50, £66.50 Waterloo, £64.50 Sockbridge Hall.
Hill ewes to £57.50 for Cheviots from Stackbraes, £55.50 Copperthorns, £49.50 Yett Farm and Milnholm; Blackface £54.50 Newbigging Walls, East Mains, Peela Hill and Syart, £49.50 Honeyburn, £48.50 Nether Stenries; Swaledale £54.50 Cowcorse, £53.50 Middle Newbiggin and Hesket House, £49.50 High Farm; Beulah £43.50 Howcleugh; Herdwick £32.50 Haithwaite.

Averages:
Steers
Light to 131.5p (120.2p)
Medium to 131.5p (129.6p)
Heavy to 175.5p (152.2p)
Heifers
Light to 141.5p (132.0p)
Medium to 158.5p (139.1p)
Heavy to 157.5p (144.6p)
Young bulls ------p (-------p)
Lambs
Light to 174.0p (157.2p)
Standard to 202.0p (157.0p)
Medium to 209.0p (158.5p)
Heavy to 183.0p (149.8p)
Overweight 189.0p (143.6p)
Ewes
Light to £57.50 (£37.91)
Heavy to £116.50 (£62.05)
Cast Rams £119.50(£67.04)

---