The Cumberland & Dumfriesshire Farmers Mart PLC had forward 53 prime cattle, 9 over thirty month cattle, 5,044 prime lambs and 5,505 cast ewes & rams at their weekly sale at Longtown on Thursday 6th August, 2009 which included the young handlers lamb show.
A smaller show of clean cattle saw all classes sharper on the week to a top of 183.5p paid by Border Meats, Lockerbie for a Limousin bullock from J. & N. Blaylock & Son, Hallburn, others 175.5p and 171.5p from Dashwellgreen to S. Wilson, Butcher; British Blue 170.5p Hallburn. Limousin heifers topped at 176.5p from Hallburn to Messrs Nattrass, Butchers.
A small show of Over Thirty Month cattle due to the good weather, with Angus heifers to 132.5p (x2) and £947 from Barnglies. Holstein cows to 104.5p Evertown; Angus 104.5p Barnglies; Galloway 87.5p Roan. Limousin bulls to 115.5p (£1,068) Gardrum.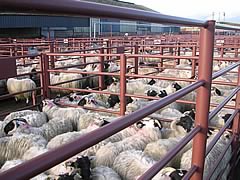 The largest show of the season so far for prime lambs, which saw all classes dearer on the week to average 156.5p overall. The 4,117 lambs over 36 kilos averaged 157.07p with the 927 lambs under 36kg averaging 153.25p.
Top price was £80 for Suffolk lambs from Catslackburn and Cardew Hall, others £76.80 Cardew Hall, £75.80 Faugh Beeches; Cheviot £62.80 Effgill; Bleu de Maines £63.20 Solway Bank; Charollais £73.80 Pates Hill, £71.20 Hallburn; Halfbreds £67.20 Adderston Shiels; Greyface £68.80 Stubsgill, £68.20, £64.80 Albierigg, £64.20 Wallend, £63.20 Midtodhills; Leicester £67 Midtodhills; Blackface £63.80 Albierigg; Herdwicks £50 Beechcroft; Jacob £62.20 StackbraeLleyn £57.20 Glenkiln; £57.80 Guards; Oxford £56.80 Guards; Shetland £51.20 Beechcroft; Texels £78.80 Cardew Hall, £78.50 Brockwoodlees, £77.80, £76.80 Cardew Hall, £75.80 Greenknowe; Beltex £78.80 Albierigg, £69.80 MouldyHills.
Lightweight lambs to £60.80 for Texels from Crindledyke, £56.80 Brookfield, £56.20 Townfoot; Suffolks £54 Lustruther, £53.80 Coshogle, £52.80 The Mark; Charollais £55.80 Blacksmiths Cottagem £51.80 Coshogle; Greyface £56.80 East Mains, £53.80 Crawfordjohnmill; Leicester £48 Beechcroft; Blackface £52.80 Swainsteads, £45.20 Hawthorns, £45 Mark; Swaledale £49.80 Burnhouse & East Unthank; Herdwick £44.20 Laalsteins; Beltex £60 Bellmount.
Incorporated in the sale was the annual young handlers competition sponsored by Farmers Guardian. A large entry of 74 lambs was presented to the judge Paul Barker of Woodhead Bros. A fantastic show for quality, improving every year showing the competitive nature of the entrants. The champion lamb came from up to 7 years old class and went to Harry Bouch, Copperthorns. The centre record was smashed when the champion lamb weighing 46 kilos sold at £210 (4.56kg) to Brian and Wendy Ross, The Proprietors of The Robin Hood Inn, Smithfield, Carlisle.
Harry Bouch with father Paul Bouch with the champion young handlers lamb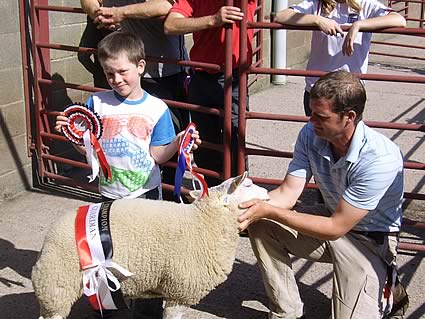 Prize list:
Class 1 age up to 7 years
1st + overall champion Harry Bouch 46kg £210 to Robin Hood
2nd Alexandra Bouch 41kg £88 to Jason Tucker, 3rd Vinny Davidson 34 kg £60 to Jason Tucker
4th James Collinge, 5th Rhona Stansford, 6th Harry Hope, 7th Kris Byers, 8th Harry Austin, 9th Carl Baxter, 10th Alex Batey.
Class 2 Age 8-11 years
1st Louise Brough 53kg £84 to Jason Tucker, 2nd Thomas Hope 45kg £78 to Jason Tucker, 3rd Ian Carlisle 45kg £78 to Jason Tucker, 4th Joseph Bouch, 5th John Wigham, 6th Robyn Bowker, 7th Rory Beard, 8th Sam Beard, 9th Callum Raem 10th Emma Atkinson.
Class 3 age 12 – 16 years.
1st Andrew Brough 55kg £90 to M Lomax, 2nd Amy Stansford 49kg £86 to Jason Tucker, 3rd Thomas Little 48kg £85 to M Lomax. 4th Jody Winder, 5th Victoria Illingworth, 6th Emily Hewitt, 7th Isla Stansford, 8th Steven Brough, 9th Rebecca Gardner, 10th Lyn Paul.
Paul Barker with Rachel Edminson and champion YFC lamb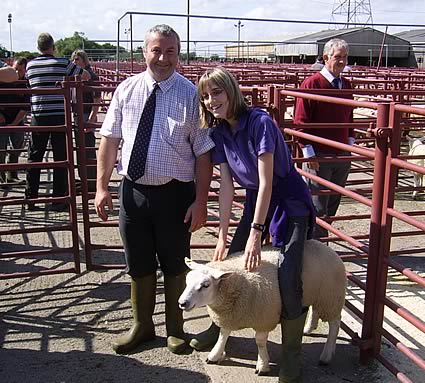 Also held today was Longtown YFC lamb show again judged by Paul Barker. Champion single went to Rachel Edminson with a superb lamb weighing 43kg selling at £125 to J Tucker. The lamb was also the best dressed lamb. Best paid went to Laura Dickinson weighing 42kg and realising £77 to J Tucker.
Another large show of 5,505 cast ewes and rams were forward to the usual ringside of buyers. All classes sold dearer on the week with a top of £152.50 for Suffolk rams from Kilnford Croft, others 138.5p Golden Lane; Texel £92.50 Lustruther, £90.50 Hamlet Gardens; Kerry £79.50 Hamlet Gardens; Beltex £78.50 Whitehill Cottage; Leicester £78.50 Midtodhills; Swaledale £69.50 East Unthank; Cheviot £62.50 Reay. Heavy ewes to £114.50 for Texels from Paulsland, £98.50 Ballyclare, £96.50 Newry; Suffolk cross £105.50 Kilnford Croft, £98.50 Colmslie Hill; Bleu d'Maine £97.50 Waterside; Half Bred £92.50 Broomhillbank; Charollais £90.50, £90 Newry; Leicester £86.50 The Knells, £81.50 Midtodhills; Zwartbles £84.50 Broomhillbank; Cheviot Mule £84.50 Colmslie Hill; North Country Cheviot £80.50 Burnside; Greyface £77.50 Winterhope, £73.50 Bankhead of Tinwald and Wyseby Hill Cottage, £72.50 Leaona Villa; Rouge £68.50 Dinwoodie Green. Hill ewes to £83.50 for Cheviots from Clackmae, £60.50 Colmslie Hill; Lleyn £72.50 South Bowerhouses; Blackface £61.50 Mount Benger, £54.50 Wanwood Hill; Swaledale £56.50 Stubsgill, £55.50 Gallowberry, £54.50 Nunscleugh; Jacob £39.50 Haithwaite; Herdwick £29.50 Hayclose.
Averages:
Steers
Light to -------p (-------p)
Medium to 167.5p (154.1p)
Heavy to 183.5p (163.9p)
Heifers
Light to -------p (-------p)
Medium to 164.5p (144.7p)
Heavy to 176.5p (160.2p)

Lambs
Light to 167.0p (151.6p)
Standard to 197.0p (157.6p)
Medium to 291.0p (156.7p)
Heavy to 457.0p (154.2p)
Overweight 164.0p (137.0p)
Ewes
Light to £83.50 (£34.57)
Heavy to £114.50 (£67.91)
Cast Rams to £152.50(£73.45)
---