The Cumberland & Dumfriesshire Farmers Mart P.L.C. had forward 85 prime cattle, 8 young bulls, 77 over thirty month cattle, 5,039 prime lambs and 4,955 cast ewes & rams at their weekly sale at Longtown on Thursday 15th October, 2009.
Clean cattle were short of quality sorts. Top price of 179.5p for a Limousin bullock from J. & N. Blaylock & Son, Hallburn to Messrs Nattrass, Butcher, others 168.5p Nether Onsett; British Blue 176.5p Hallburn to W. Kirkup, Butchers. Charolais heifers to 170.5p Hallburn to Border Meats; Limousin 169.5p Houghton House to Messrs Malone, Edinburgh.
Young bulls comprised of dairy sorts selling to 144.5p, 134.5p (x2) for Black & Whites from Harelawhole; Angus 135.5p Johnstone Bank.
The 77 Over Thirty Month cattle on offer saw more buyers present. Galloway bullocks to 142.5p Snowden Close. British Blue heifers to 135.5p The Plumpe; Angus 127.5p Glencartholm. British Blue bulls to 103.5p High Floweryhirst; Longhorn 81.5p Laverhay. Limousin cows to 136.5p and 129.5p Greystoke Castle, 115.5p Kilmallo; British Blue 131.5p Nunscleugh, 121.5p Laverhay; Simmental 108.5p Kilberry; Longhorn 104.5p Laverhay; Shorthorn 88.5p Kilberry.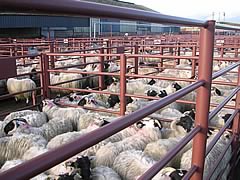 A smaller show of 5,039 prime lambs were forward to the usual ringside of buyers. With a better show for quality and less light lambs forward, an overall average of 135.5p was achieved. Heavy lambs (45kilos and over) proved harder to cash with export weights (37-43 kilos) very much in demand, selling regularly between 140p and 150p. Top of 174p per kilo for Texels from Killocraw. Top per head of £70 for Texels from Dormansteads; Suffolk £69.80 High Stenries, £64.20 Sceughdyke; Beltex £65.50 Riggshield; Charollais £63.20 Leaona Villa, £62.20 Moss Side; Greyface £59.20 Crowhall, £57.80 Cowcorse; Half Bred £58.80 Adderston Shiels; Hampshire £58.80 Dyke; North Country Cheviot £57.80 Milton and Langholm Mill; Cheviot Mule £57.20 Tarrasfoot, £56.20 Granton; Lleyn £56.80 Chipknowe; Oxford £55.80 Guards; Blackface £53.80 Chapel, £52.50 Howcleugh; Leicester £56.20 Collinbank; Hill Cheviot £56.20 Crossdykes, £54.80 Twislehope; Ryeland £49.80 Mossband House; Easycare £49.80 Dolphinston; Beulah £49.80 Howcleugh; Swaledale £45.20 East Unthank.
The 812 lightweight lambs averaged 140.1p and sold to a top price of £55.80 for Texels from Hilltop and Wallend; Cheviot Mule £51.80 High Chesterss; Greyface £51.20 Arnicle; Charollais £50.80 Kirkend; Suffolk £48.80 Thomasdene and Rosgill Hall; Blackface £47.80 Arnicle; Beulah £42.20 Howcleugh; Herdwick £42.20 Laal Steans; Swaledale £41.80 East Unthank; Easycare £40.80 Dolphinston; Jacob £39.80 Zetland; Dorset £36.80 Zetland.
Another good show of 4,955 ewes and rams were presented to the usual ringside of buyers. A better show with less plain sorts forward saw all classes maintain recent rates. Top of £99.50 for Leicester tups from Overacre; Charollais £96.50 Seavers; Texel £88.50 Hamlet Garden, £86.50 Roadside; Suffolk £88.50 Hamlet Garden and Newry; Rouge £82.50 Newry; North Country Cheviot £76.50 Hamlet Gardens and Tarrasfoot; Beltex £72.50 Hamlet Garden; Hill Cheviot £68.50 Stackbraes; Kerry Hill £62.50 Seavers; Swaledale £60.50 Newbiggin; Blackface £52.50 East Fortissat and Arnicle; Jacob £39.50 Howard House. Heavy ewes to £97.50 for Texels from Roadside, £96.50 Grange Hall; Suffolk £93.50 Newry; Beltex £88.50 Stackbraes; Suffolk cross £83.50 Newry; Charollais £82.50 Hamlet Garden; North Country Cheviot £73.50 Hamlet Garden; Half Bred £73.50 Guards Mill; Greyface £68.50 Sceughdyke, £66.50 Haithwaite and Winterhope; Leicester £67.50 Mains; Clun £62.50 Hamlet Garden; Lleyn £59.50 Mains; Cheviot Mule £46.50 Bloch. Hill ewes to £69.50 for Cheviots from Newry, £63.50 West Deloraine; Blackface £53.50 Mains, £48.50 Grange Hall; Swaledale £48.50 High Greenhill, £46.50 Stubsgill; Kerry Hill £35.50 Newry; Jacob £32.50 The Garth; Beulah £29.50 Howcleugh. Goats to £44.50 Nether Stenries.
Averages:
Steers
Light to 149.5p (149.5p)
Medium to 161.5p (149.9p)
Heavy to 179.5p (154.6p)
Heifers
Light to 121.5p (121.5p)
Medium to 169.5p (146.4p)
Heavy to 176.5p (152.7p)
Young bulls to 144.5p (131.8p)
Lambs
Light to 160.0p (139.1p)
Standard to 174.0p (142.8p)
Medium to 165.0p (135.0p)
Heavy to 141.0p (124.2p)
Overweight 121.0p (117.7p)
Ewes
Light to £69.50 (£33.84)
Heavy to £97.50 (£58.84)
Cast Rams to £99.50 (£60.01)
---