The Cumberland & Dumfriesshire Farmers Mart P.L.C. had forward 32 prime cattle, 28 over thirty month cattle, 4,511 prime lambs and 6,304 cast ewes & rams at their weekly sale at Longtown on Thursday 14th October, 2010.
Prime cattle were short of requirements and once again handy weight cattle were in demand. Top price of 180.5p for a Limousin heifer from J. & N. Blaylock & Son, Hallburn to W. Kirkup & Sons, Butchers, Longtown, others 168.5p Toppin Castle, 165.5p Hallburn; Charolais 162.5p Sceughdyke, 161.5p Hallburn; British Blue 152.5p Becton Hall; Saler 151.5p Upper Mains; Galloway 143.5p Justicetown; Angus 139.5p Sandbed. Bullocks to 155.5p for Limousin from Newby, others 145.5p Woodslee.
OTM cows met a firm trade and more could have been sold. Top price of 131.5p for a Limousin heifer from High Dubwath. Cows to 123.5p for Angus from Crofthead; Limousin 116.5p Crofthead, 113.5p Nunscleugh; Galloway 103.5p Hardhurst; Charolais 95.5p Burnside; British Blue 95.5p Parcelstown. OTM bullocks to 98.5p for Friesian from Jerriestown. OTM bulls to 85.5p for Limousin from Burnside.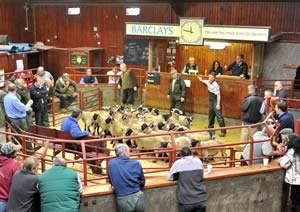 A slightly smaller show of 4,511 prime lambs was forward, resulting in all classes being much dearer on the week to a full ring of buyers to average 165.2p per kilo, up 13p on the week. The sale was topped at 224p per kilo for Texels from Northdean Head and to £90.50 per head for Texels from Kirkton, others £89.50 Nunscleugh, £88.50 Rosehill; Beltex £88.50, £85.20 Sorbie; Suffolk £87.50, £84.50 Rosehill; Charollais £82.50 Leaona Villa, £78.80 Sebay and Moss Side; Greyface £81.80 Miller Hill, £72.50 Greenburn, £72.20 Pitland Hills; Zwartbles £80 Nunfield; Blackface £78 Pates Hill, £70.50 Gibbs Hill, £68.80 Lanehead; Hill Cheviot £69 Raeburnfoot, £66.80 Falnash; Cheviot Mule £68.80 East Middle, £66.20 Tushielaw; North Country Cheviot £67.50 Naddle; Lleyn £66.80 Hemplands, £65.80 Chipknowe.
The 477 lightweight lambs sold to £73.50 for Texels from Naddle; Suffolk £60.80 Whitehill, £58.50 Low Old Shield; Blackface £59.80 Chapel, £57.50 North Deanhead, £55.20 Crindledykes; Greyface £59.20 Tarnside House, £55 Haithwaite; Herdwick £57.20 Tarnside House; Jacob £56.50 Newington; Swaledale £55.20 Highside; Welsh Mountain £50.80 Haithwaite.
Ewes and rams were another excellent show of 6,304 selling to the usual ring of buyers with trade £1 to £2 easier on the week. The sale was topped at £128.50 for a Leicester ram from Lynnshield; Texel £120.50 West Farm, £118.50 Crumhaugh Hill, £108.50 Howe; North Country Cheviot £112 Langholm Mill; Beltex £100.50 The Hope; Hill Cheviot £98.50 Raeburnfoot; Blackface £82.50 Newbigging, £78.5 Whitefield; Lleyn £80.50 Bairnkine; Zwartbles £80.50 Killimister;Swaledale £50.50 Morley Hill. Heavy ewes to £120.50 for Texels from West Farm, £108.50 Smyllum and East Middle, £106.50 Alton and The Thorns; Beltex £106.50 The Hope, £100 Mouldy Hills; Charollais £100.50, £88.50 Smyllum; North Country Cheviot £98.50 Hallum Forss, £91.50 Colte Coats; Leicester £96.50 Nunscleugh; Suffolk £95.50, £93.50 Coytre, £91.50 Old Wall, £90.50 Kilnford Croft; Half Bred £92.50, £90.50 West Farm; Bleu d'Maine £88.50 Stockwell Hall; Cheviot Mule £86.50 Granton, £79.50 Sutton; Greyface £75.50 Stubsgill, £74.50 Thura Mains and Longrow; Oxford £68.50 Guards. Hill ewes to £69.50 for Blackfaces from Newbigging, £66.50 West Farms, £66 Crosskeys; Lleyn £66.50 Chipknowe, £63.50 Marygate; Cheviot £64.50 Oakshawhill, £62.50 Killimister; Swaledale £59.50 Lipwood Well, £56.50 Spital Shields and Stubsgill; Herdwick £50.50 Hillside, £48.50 Haithwaite; Jacob £47.50 Howard House; Shetland £46.50 North Deanhead; Welsh Mountain £43.50 Longbrough Fauld.

Averages:
Steers
Light to -------p (-------p)
Medium to 153.5p (153.5p)
Heavy to 155.5p (145.1p)
Heifers
Light to -------p (-------p)
Medium to -------p (-------p)
Heavy to 180.5p (152.5p)
Young bulls to -------p (-------p)
Lambs
Light to 180.0p (158.6p)
Standard to 224.0p (174.9p)
Medium to 206.0p (166.0p)
Heavy to 179.0p (154.5p)
Overweight 167.0p (146.4p)
Ewes
Light to £69.50 (£43.87)
Heavy to £112.50 (£71.69)
Cast Rams to £128.50(£73.19)
---