YOUNG HANDLERS PRIME LAMB SHOW
& LONGTOWN YFC PRIME LAMB SHOW
The Cumberland and Dumfriesshire Farmers mart held their annual young handlers show and sale of prime lambs, together with show and sale of Longtown YFC prime lambs at Longtown on Thursday 4th August, 2011.
The annual young handlers competition was kindly sponsored by Farmers Guardian.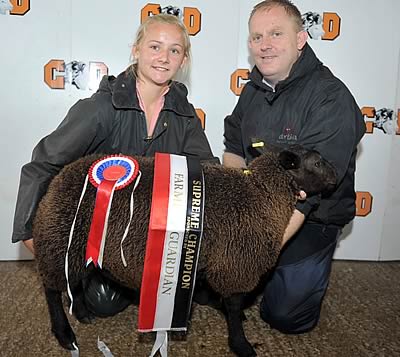 Champion Lamb with Lauren Little and Haig Murray
A large entry of 62 lambs was presented to the Judge Haig Murray of Dunbia, Llanybydder. A fantastic show for quality and a credit to the young handlers showing them.
The champion lamb came from the 12 to 16 year old class and went to Lauren Little, Cubby Hill, Longtown which weighed 39 kilos and realised £200 to the judge. The Hugh Taylor Memorial Cup was presented to Lauren by John Taylor of Englishtown.
Prize list:
Class 1 age up to 7 years
1st Issac Bouch & reserve champion 42kg £110 to Andrew Dawson
2nd James Collinge 41kg £87 to Michael Lomax.
3rd Alex Byers 45kg £90 Bobby Booth
4th Alexandra Bouch,
5th Rona Sandford,
6th Millie Hogg,
7th Tom Hall,
8th Lee Mitchinson,
9th Olivia Watson,
10th Sean Dunbar
Class 2 Age 8-11 years
1st Harry Bouch 45kg £100 to Haig Murray
2nd Logan Ewart 42kg £96 Michael Lomax.
3rd Ben Thorburn 42kg £92 Michael Lomax.
4th Joseph Bouch,
5th Emily Dinnin,
6th Scott Watson,
7th Louise Brough,
8th Robbie Frizell,
9th Rachael Graham,
10th Andrew Calvert
Class 3 age 12 – 16 years.
1st & Champion Lauren Little 42kg £200 Haig Murray,
2nd Vicky Illingworth 45kg £98 Trevor Head,
3rd Jody Winder 46kg £98 Bob Vevers.
4th Ian Carlisle,
5th Thomas Little,
6th Ami Sandford,
7th Isla Sandford,
8th Lisa Irving,
9th Lauren Little,
10th John Wigham.
Also held today was Longtown YFC lamb show again judged by Haig Murray. Champion single went to Paul Gardner with a superb lamb weighing 42kg selling at £88 to the Judge, Haig Murray. 2nd was Rachel Edminson, 3rd Alice Dickinson.
The best dressed lamb went to Rebecca Gardner, 2nd Paul Gardner, 3rd Rachel Edminson.
Best pair went to Alice Dickinson, 2nd Paul Gardner, 3rd Linda Edminson.
Young Handlers Gallery
(click on thumbnails to enlarge)