The Cumberland & Dumfriesshire Farmers Mart P.L.C. had forward 67 prime cattle, 10 young bulls, 34 over thirty month cattle, 3,386 prime lambs and 6,161 cast ewes & rams at their weekly sale at Longtown on Thursday 2nd August 2012.
Prime cattle were a good show of quality and met a sharp trade for handy weights. The top price was 223.5p twice, firstly for a Limousin heifer from C.A. Grieve & Son, Snab Farm and again for a Limousin bullock shown by A. & W.J. Taylor & Son, Dashwellgreen.
PRINCIPAL PRICES (PER KILO)
Bullocks
Limousin – 223.5p, 221.5p Dashwell Green, 221.5p The Gill, 216.5p Cambeckhill, 212.5p The Gill, 211.5p Dashwell Green, 210.5p Newby Farm, 208.5p, 205.5p, 202.5p Dashwell Green.
Heifers
Limousin – 223.5p Snab Farm, 220.5p Newby Farm, 219.5p Newtown Farm, 216.5p Hallburn, 214.5p, 209.5p Newtown Farm, 208.5p Hallburn, 205.5p (x2), 203.5p Smallholms.
Charolais – 215.5p Hallburn, 212.5p Upper Mains, 206.5p, 202.5p Upper Mains.
PRINCIPAL PRICES (PER HEAD)
Bullocks
Blonde d'Aquitaine - £1,536 Becton Hall.
Charolais – £1,496 Becton Hall.
Limousin – £1,466 The Gill, £1,395 (x2) Dashwell Green.
British Blue - £1,442 Sceughdyke.
Heifers
Limousin – £1,396 Snab Farm, £1,244 Hallburn, £1,179 Newby Farm, £1,149 Sandbed, £1,147 Newtown, £1,138 Hallburn, £1,130 Newtown.
Charolais – £1,259, £1,255 Upper Mains, £1,168 Sceughdyke, £1,174 Hallburn.
Young bulls were a good show of quality but more numbers are needed. Top price of 217.5p for a Limousin from Mr A. Moffat, 6 Stonehouse.
PRINCIPAL PRICES (PER KILO)
Limousin – 217.5p 6 Stonehouse, 211.5p (x2) Oakwoodhill, 210.5p 6 Stonehouse, 192.5p Becton Hall.
British Blue – 213.5p, 210.5p, 209.5p Gardrum.
Blonde d'Aquitaine – 207.5p Oakwoodhill.
PRINCIPAL PRICES (PER HEAD)
British Blue – £1,347, £1,334, 31,330 Gardrum.
Limousin – £1,300 Oakwoodhill.
The 34 OTM cattle saw a lot of weathered feeding cows forward and met a brisk trade. Top price of 191.5p for a Charolais from Messrs J. Magnay, Smallholms.
PRINCIPAL PRICES (PER KILO)
Charolais – 191.5p, 179.5p Smallholms.
Limousin – 157.5p Riggfoot, 142.5p Snab Farm, 141.5p Lea Hill, 129.5p Whiteclose.
Angus – 147.5p The Shaws, 138.5p Riggfoot.
Simmental – 142.5p Cadgillhead, 130.5p Catslackburn.
British Blue – 134.5p Catslackburn.
Hereford – 134.5p Archerbeck.
PRINCPAL PRICES (PER HEAD)
Limousin – £1,212 Riggfoot, £904 Snab Farm, £863 Lea Hill.
Charolais – £1,043 Smallholms.
British Blue – £934 Catslackburn.
Angus – £921 Riggfoot, £840 The Shaws.
Simmental – £826 Cadgillhead.
Included in the sale was the Annual Young Handlers competition which was kindly sponsored by Farmers Guardian. The 43 lambs were presented to the judge Robert Woodward of Bowood Farms.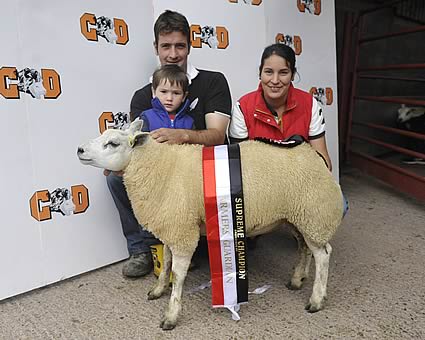 Champion
The Champion Lamb came from the 7 and unders class and went to Jack Whiteford, Tercrosset Farm, West Hall, which weighed 43kilos and realised £120 to the judge. The Hugh Taylor Memorial Cup was presented to Jack by Karen Fell of Staffler.
Prize list:-
Class 1, age 7 years and under
1st & Champion – Jack Whiteford, 43kg, £120 to Bowood Farms.
2nd – Amy Graham, 50kg, £112 to M. Lomax.
3rd – Alexandra Bouch, 40kg, £84 to Bowood Farms.
4th – Kris Byers.
5th – Issac Bouch.
6th – John Mitchinson.
7th – Alex Byers.
8th – Lucy Hall.
9th – James Collinge.
10th – Joseph Hutton.
Class 2, age 8 to 11 years
1st– Harry Bouch, 39kg, £92 to Bowood Farms.
2nd – Rachael Graham, 44kg, £103 to M. Lomax.
3rd – Andrew Neill, 44kg, £87 to D. Kemp.
4th – John Calvert.
5th – Thomas Hall.
6th – Lucy & Rosie Winter.
7th – Sean Dunbar.
8th – Ellen Neill.
9th – Louise Brough.
10th – Lee Mitchinson.
Class 2, age 8 to 11 years
1st– John Wigham, 48kg, £102 to M. Lomax
2nd – Ian Carlisle, 40kg, £86 to M. Lomax.
3rd – Joseph Bouch, 37kg, £80 to Bowood Farms.
4th – Robert Neill.
5th – Harry Park.
6th – Lisa Dunbar.
Click on images to enlarge
Also held today was Longtown YFC's Lamb Show, again judged by Robert Woodward. Champion single lamb went to Richard Fox, weighing 46 kilos and selling at £100 to R. Vevers, 2nd Rachel Edminson, 3rd Richard Fox.
The best dressed lamb went to Rebecca Gardner, 2nd Paul Gardner.
Best pair went to Richard Fox, 2nd Rebecca Gardner, 3rd Paul Gardner.
Outwith the show, a smaller show of 3,386 Prime Lambs averaged 182.5p per kilo and saw trade sharper than most places in the middle of the week, due to a shortage of numbers and flesh. Top of 215p per kilo for Texels from Messrs Swanson, Hillhead, and to £115 and £113.50 per head for Texels from Carran, £98.80 Kirkton; Charollais £94.80 Kilnfordcroft, £79.20 Dashwellgreen, £76.20 Sceughdyke; Suffolk £92.80 Sceughdyke, £91.50 Kersheugh, £89.80 Swallows Barn; Cheviot Mule £79.80 Boreland; Greyface £77.80 East Cragside, £75.80 Mouldy Hills, £75.20 Spoutbank; Leicester £77.50 Kilnstown; Oxford £67.80 Guards; Half Bred £67.80 High Moat; Blackface £65 Whiteside, £64.80 High Crubasdale, £62.80 Craig Farm.
A larger show of 6,161 cast ewes and rams were forward to the usual ring of buyers with trade similar on the week.
Top price of £139.50 for Leicester rams from Albierigg, £120.50 Todhillwood, £118.50 Borthwick Brae; Beltex £138.50 Crumhaugh Hill, £106.50 Whitehill Cottage; Texel £138.50 Westloch, Severs and Draperstown, £132.50 Roadside, £130.50 Todhillwood; Charollais £126.50,£106.50 Draperstown; Suffolk £126.50 Draperstown, £109.50 Dinley; Hill Cheviot £100.50 Dinley and Draperstown; North Country Cheviot £94.50 Olrig Mains; Blackface £90.50 Westloch, £86.50 Borthwick Brae; Vendeen £84.50 Beechgrove; Swaledale £80.50 Stackbraes.
Heavy ewes to £128.50 for Texels from Severs, £126.50 Severs, £124.50 Roadside; Suffolk £126.50 Beechgrove, £106.50 Pirntaton, £105.50 Roadside; Charollais £122.50 Roadside, £116.50 Severs, £112.50 Cowcorse; Leicester £98.50 Stackbraes, £93.50 Cowcorse, £90.50 Midtodhills; North Country Cheviot £92.50 Bardnaclaven, £84.50 Philiphaugh, £79.50 Old Hall; Beltex £91.50 Nether Dargarvel, £84.50 Stackbraes; Greyface £89.50 Streethead and Pirntaton, £77.50 Streethead and Fenton, £75.50 Deuchrie and Awhirk; Cheviot Mule £87.50 Stobo Home Farm and Todholes, £83.50 Flanash, £79.50 Swiney Hill; Half Bred £72.50 Beckhall.
Hill ewes to £79.50 for Blackfaces from Meggethead, £72.50 Borthwick Brae, £70.50 Deuchrie; Cheviot £73.50 Hillhead, £70.50 Dinley, £68.50 Bushfield; Jacob £73.50 Severs, £64.50 Hayclose; Easycare £70.50, £70 Kersheugh; Swaledale £62.50 Hayclose, £60.50 Bellmount, £59.50 East Unthank; Shetland £59.50, £56.50 Hunthill; Kendal Rough £47.50 Stackbraes; Welsh Mountain £45.50 High Dovecote; Herdwick £44.50 Hayclose.
Averages:
Steers
Light to 195.5p (181.7p)
Medium to 223.5p (205.0p)
Heavy to 212.5p (194.7p)
Heifers
Light to 208.5p (179.0p)
Medium to 220.5p (199.7p)
Heavy to 223.5p (205.2p)
Young bulls 217.5p (204.5p)
Lambs
Light to 206.3p (183.7p)
Standard to 235.9p (182.6p)
Medium to 279.1p (181.9p)
Heavy to 225.0p (187.4p)
O/weight to 214.0p (160.3p)
Ewes
Light to £79.50 (£50.10)
Heavy to £128.50 (£76.29)
Cast Rams £139.50 (£93.46)