The Cumberland & Dumfriesshire Farmers Mart PLC had forward 45 prime cattle, 9 young bulls, 33 over thirty month cattle, 5,173 prime lambs and 8,254 cast ewes & rams at their weekly sale at Longtown on Thursday 20th December 2012.
A small mixed show of prime cattle saw the sale top at 223.5p for a Charolais heifer shown by Messrs J. Bell, Brydekirk Mains, others to 220.5p from J. & N. Blaylock & Son, Hallburn. Limousin bullocks sold to 225.5p from N. Forster, The Haining House.
PRINCIPAL PRICES (PER KILO)
Bullocks
Limousin 225.5p, 219.5p The Haining House, 209.5p (x2) Houghton House.
Charolais 207.5p, 202.5p Sceughdyke.
Heifers
Charolais 223.5p Brydekirk Mains, 220.5p, 213.5p (x2), 212.5p (x2), 209.5p Hallburn, 211.5p, 209.5p Sceughdyke.
Limousin 219.5p Brydekirk Mains, 217.5p Hallburn, 214.5p, 209.5p, 208.5p Brydekirk Mains, 207.5p (x2), 206.5p Wicket Thorn.
PRINCIPAL PRICES (PER HEAD)
Bullocks
Limousin £1,477 The Haining House, £1,414 Nether Onsett.
Charolais £1,427 Sceughdyke.
British Blue £1,417 Sandbed.
Heifers
Charolais £1,336, £1,257 Sceughdyke, £1,289, £1,248, £1,216 Hallburn.
Limousin £1,207 Brydekirk Mains.
Topping the sale at 209.5p was an outstanding British Blue cow shown by R. & R.A. Pattinson, Temon.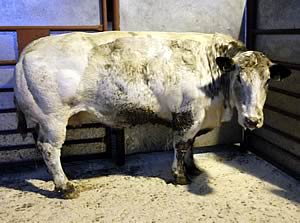 A small plain show of bulls and prices slightly easier on the week. Top price of 234.5p for a British Blue shown by R. & R.A. Pattinson, Temon.
PRINCIPAL PRICES (PER KILO)
British Blue 234.5p Temon.
Limousin 181.5p, 179.5p Brisco Hill, 178.5p Dinwoodie Green.
Black & White 171.5p Dinwoodie Green.
PRINCIPAL PRICES (PER HEAD)
British Blue £1,465 Temon.

A similar number of OTMs forward with well fleshed cows good to sell. Topping the sale at 209.5p (£1,924.40) was an outstanding British Blue cow shown by R. & R.A. Pattinson, Temon.
PRINCIPAL PRICES (PER KILO)
British Blue 209.5p Temon.
Limousin 156.5p (x2), 149.5p Nunscleugh, 131.5p, 109.5p Shankbridge End.
Angus 139.5p Brydekirk Mains.
Charolais 137.5p, 135.5p Mosside
Hereford 119.5p Smallholms.
PRINCIPAL PRICES (PER HEAD)
British Blue £1,927 Temon.
Limousin £1,095, £1,064, £956 Nunscleugh.
Charolais £962, £907 Moss Side.

Another good show of 5,173 lambs were forward to a busy ring of buyers, with good export lambs and best quality lambs easily sold at higher rates. Heavyweight lambs remain similar with only best fleshed lightweight lambs maintaining last weeks trade. The sale average was 150.2p (SQQ 152.2p).

The sale topped at 237p per kilo for Texels from Messrs Mitchinson, High Greenhill and to £92 per head for Beltex from Mr Tony Gribbon, Waterside, others £83.80 Waterside and Gelston Castle; Texel £87.80 High Greenhill, £86.80 Mossband Hall, £84.80 Low Tirfergus; Suffolk £83.80 Newbigging, £82.20, £80.80 Sceughdyke; Hill Cheviot £76.80, £64.80, £59.20 Haithwaite; Charollais £70 Waterside, £66.80 Culquhasen, £64.80 Hallburn; Leicester £67.50 Penpeugh, £57.80 Old Police House; Cheviot Mule £66.80 Chapel Farm; Greyface £66.20 Sceughdyke, £65.80 Albierigg, £65 Shankfieldhead; Blackface £60 Pitland Hills, £59.80 Winterhopeburn and Craig Douglas; North Country Cheviot £59.80 Fenwick, £56.80 Terrona, £53.50 North House; Herdwick £51.80 Ashley Park, £50 Longrow.

The 1,096 lightweight lambs sold to £73.80 for Beltex from Harene; Texel £70.80 Geltson Castle, £69.80 Cardew Hall; Suffolk £54.80 Sundhope; Hill Cheviot £53.80 Sundhope; Blackface £52.80 Chapel Farm, £50.20 Mid Harrietsfield; Swaledale £43.20 Orthwaite Hall.

Another extremely large show of 8,254 cast ewes and rams were forward to a full ring of buyers with best selling ewes still a good trade but most other ewes easier on the week. Heavy ewes to £130.50 for Texels from Crailloch, £126.50 Fineview, £120.50 Crailloch; Charollais £108.50 Severs, £98.50 Valley, £97.50 Severs; Suffolk £100.50 Backmuir, £94.50 Greenlaw, £92.50 Newbigging; North Country Cheviot £80.50 Backmuir, £73.50 Severs, £72.50 East Kirk; Half Bred £80 Severs, £78.50 Brockhall Manor; Greyface £70.50 Hopehill, £68.50 Brockhall Manor, £65.50 Stobswood; Leicester £70.50 Gapshield, £67.50 Severs; Cheviot Mule £69.50 Greenfold and Easton, £68.50 Newbigging, £66.50 Fontainbleau. Hill ewes to £74.50 for Cheviots from Blackhaugh, £55.50 Derwent, £54.50 Draperstown; Blackface £57.50, £56.50 Westhill, £54.50 Middle Shipley; Easycare £56.50 Severs, £44.50 Blackhaugh; Milk Sheep £49.50 Brockhall Manor; Lleyn £46.50 Harwood House, £42.50 Hunderlee Pastoral; Swaledale £37.50 Easton, £35.50 Derwent; Herdwick £34.50 Cardew Hall; Jacob £34.50 High Parson Bridge. Rams to £120.50 for Charollais from Roadside, £99.50 Backmuir; Texel £120 Crailloch, £100 Relief, £99.50 New Cottage Farm; Suffolk £100.50 Hopehill, £83.50 Newbigging; Rouge £94.50 Roadside; Leicester £86.50 Gapshield, £69.50 Nettling Flatt; Zwartbles £84.50 Severs; Kerry Hill £75.50 Severs; Easycare £64.50 Blackhaugh; Beltex £60.50 Mount Field; Blackface £59.50 Arnicle, £49.50 Newbiggin; Hill Cheviot £50.50 Sundhope, £39.50 Kinnaird.

Goats to £65.50 Altamuskin.

Averages:

Steers
Light to -------p (-------p)
Medium to 219.5p (194.6p)
Heavy to 225.5p (201.9p)

Heifers
Light to 223.5p (187.8p)
Medium to 220.5p (209.7p)
Heavy to 209.5p (200.3p)

Young bulls to 234.5p (178.6p)

Lambs
Light to 174.4p (142.4p)
Standard to 237.0p (154.4p)
Medium to 214.0p (153.1p)
Heavy to 169.0p (143.9p)
O/weight to 151.0p (136.9p)

Ewes
Light to £74.50 (£37.44)
Heavy to £130.50 (£63.04)

Cast Rams to £120.50 (£77.27)