The Cumberland & Dumfriesshire Farmers Mart PLC had forward 36 prime cattle, 5 young bulls, 21 over thirty month cattle, 7,387 prime hoggs and 6,557 cast ewes & rams at their weekly sale at Longtown on Thursday 28th February 2013.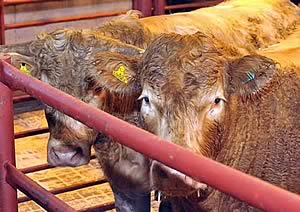 A small show of prime cattle, with a full ringside of buyers, trade easily upheld last weeks trade. The sale was topped at 238.5p for a Limousin bullock shown by JC & D Nicholson & Son, The Gill and purchased by M J Wharton, Wholesale butchers, Wigton. Messrs Nicholson sold others to 234.5p, 231.5p. Limousin heifers sold to 237.5p from A & W J Taylor & Son, Dashwellgreen and purchased by Border Meats, Wholesale Butcher, Lockerbie.
PRINCIPAL PRICES (PER KILO)
Bullocks
Limousin 238.5p, 234.5p, 231.5p, 224.5p The Gill, 221.5p Wickerthwaite, 215.5p Sceughdyke, 209.5p Bleatarn. 207.5p Nether Onsett, 206.5p, 203.5p Bleatarn
Charolais 207.5p Sceughdyke
Saler 218.5p Nether Onsett.
Heifers
Limousin 237.5p Dashwellgreen, 225.5p Ladyhousesteads, 224.5p Hallburn, 222.5p Dashwellgreen.
British Blue 2226.5p, 211.5p Houghton House
Blonde d'Aquitaine 217.5p Hallburn
Angus 219.5p Hallburn
PRINCIPAL PRICES (PER HEAD)
Bullocks
Limousin £1,653.23, £1516.33, £1,514.48 ,£1504.15 The Gill, £1,476.48 Bleatarn, £1,433.08 Sceughdyke
Charolais £1,452.60 Sceughdyke
PRINCIPAL PRICES (PER HEAD)
Heifers
Charolais £1,217.70 Sceughdyke.
Limousin £1,330.45 Ladyhousesteads, £1,211.25 Dashwellgreen
Not too many Young bulls on offer, but a flying trade was had. Top was 221.5p for a Simmental from R & E Mercer, Stirches Mains.
PRINCIPAL PRICES (PER KILO)
Simmental 221.5p, 217.5p Stirches Mains
Black & White 186.5p Becton Hall
Angus 212.5p Stirches Mains
Limousin 191.5p Becton hall
PRINCIPAL PRICES (PER HEAD)
Limousin £1,235.18 Becton Hall
Simmental £1305, £1273.63 Sitrches Mains
Black & White £1212.25 Becton Hall
A better show of cast cows was on offer with a full ring of buyers both new and current the trade met a flyer. Top price was 227.5p and 208.5p for Limousins shown by Messrs Ritson, Swaites. Charolais to 204.5p Burnside, 200.5p Sceughdyke and Black & Whites selling to 179.5p Sceughdyke
PRINCIPAL PRICES (PER KILO)
Limousin 227.5p Swaites, 166.5p Upperburnmouth, 162.5p Greystoke, 118.5p Horseholm
Black & White 179.5p Sceughdyke, 147.5p Peterscrook, 146.5p Roanstree, 145.5p Becton Hall
Charolais 204.5p Burnside, 200.5p Sceughdyke, 188.5p Burnside
Angus 140.5p, 138.5p, 123.5p Potholm
Bazadaire 218.5p Swaites
PRINCIPAL PRICES (PER HEAD)
Black & White £1,238.55 Sceughdyke, £1164 Becton Hall, £1062.13 Roanstree, £988.25 Peterscrook
Limousin £1,207.13 Upperburnmouth, £1,114 75 Swaites £1105 Greystoke Castle
Angus £893.33 Potholm
Charolais £1073.63 Burnside
Bazadaire £1059.73 Swaites
Another excellent show of 7387 prime hoggs was forward to a full ring of buyers and bidding was keen with an overall sale average of 181.8p/kg (+10p) and SQQ of 184.5p/kg.
The sale was topped at 279p for Beltex hoggs from MacTaggart Bros, Station Yard and to a top of £107.50 for Texel hoggs from Keith Farm. Best hoggs regularly sold between 230p and 260p.
PRINCIPAL PRICES PER HEAD
Beltex £107.50 Keith Farm, £99.80 Green Aton, £98.80 Baggarah; Greyface £87.80 Thorns, £80.80 Keith Farm, £78.80 Brampton Fell; Blackface £84.80 Yatesfield, £77.80 Sceughdyke, £75.80 Peel; North Country Cheviot £91 Hillcrest, £90.80 Keith Farm & Hillcrest; Swaledales £67.80 Hammershield, £61.80 Hollinclose; Suffolk x £98.80 Jubilee Park, £91.20 East Cliff, £90.80 Sceughdyke; Cheviot £87.80 Potholm (x4), £86.80 Potholm; Texel £106.50, £102.50 Keith Farm, £102.50 Eskdale Street, £101.50 Keith Farm; Rouge £95.80 Braithwaite Hall; Charollais £93.50 Keith Farm; Charollais £86.80 Keith Farm & East Cliff; Halfbred £87.80 Lybster, £83.20 Stobshiel.
PRINCIPAL PRICES PER KILO
Texel 279p, 264p Station Yard, 263,260p Keith Farm; Suffolk x 205p Keith Farm, 204p The Gill, 203p, 202p, 200p Keith Farm; Cheviot 204p Raeburnfoot, 200p Woodhousehill 199p Potholm; Swaledale 158 Hammershields, 152p Westburnhope, Herdwick 163p Longrow; Beltex 270p Green Aton, 257p Oakwood, 256p Keith Farm; Rouge 223p Braithwaite Hall; Charollais 215p Dyke, 212p Keith Farm; Halfbred 179p Stoboshiel & West Glengyre; Greyface 209p Thorns, 192p Keith Farm; Blackface 171p Smalmstown 167p Peel, 165p Westloch; North Country Cheviot 198p, 197p Hillcrest, 192p Bromfield Hall.
The lightweight hoggs sold to £97.80 for Texels from Station Yard, £73.80 Keith Farm; Suffolk x £66.80 Keith Farm; Cheviot £70.20 Keith Farm, £69.80 Milnholm; Charollais £59.80 Ardlamy; Greyface £56.80 Dallowie; Cheviot Mule £60.80 Clochkeil; Blackface £54.80 Pitland Hill, £52 Catslackburn, £50.80 Arnicle; Swaledale £54.80 Westburnhope, £43.50 Coldshield; Herdwicks £58.80, £53.80 Longrow; Beltex £77.50, £72.80, £70 Waltonwoodhead
Another grand show of 6557 cast ewes and rams were forward to a large ring of buyers with trade for heavy ewes especially fit Mules dearer on the week. Good selling Texel & Continental ewes remain scarce and dear with best fleshed export types similar. A large number of plain ewes were forward proving harder to cash. The sale topped at £134.50 for Texel ewes from J Wight & Son, Midlock, others £128.50 Tobemore £127.50 Roadside, £126.50 Yatesfield & Tobemore, £125.50 Nether Ernambrie, £124.50 Donemana; Suffolk £106.50 Tobemore, £105.50 Wick, £100.50 Flass, £94.50 Tobemore; Bleu de Maine £108.50 Severs Road; Rouge £108.50 Tobemore; Charollais £116.50 Roadside & Tobemore, £106.50 Severs, £100.50 Tobemore, £100 Wick; Greyface £79.50 Middle Farm, £78.50 Wick, £75.50 Longyester & Westhope; Cheviot Mules £71.50 Allfornaught, £69.50 Clochkeil; Leicester £86.50 Boreland, £82.50 Baggarah; North Country Cheviot £86.50 Lythmore, £82.50 Olrig Mains & Wester Dunnet; Beltex £91.50 Chapel Hill.
Light ewes: Cheviots £60.50 Hownam Grange & Barnakill; Blackface £59.50 Westloch, £53.50 Drinkstone, £50.50 Yatesfield; Swaledale £42.50 The Hollows, £40.50 Spital Shields, £39.50 East Unthank; Herdwicks £35.50 Cardewlees; Shetland £42.50 Keith Farm.
Prime rams: Charollais £114.50 Chapel Hill; Suffolk £88.50 Boreland, £77.50 Chapel Hill, £74.50 Gill Farm; Cheviot £59.50 Lintongate; Texel £95.50 Roadside, £94.50 Coytre & Philiphaugh; Leicester £86.50 East Unthank & Arnicle; Blackface £55.50 Arnicle, £50.50 Bluebell; North Country Cheviot £89.50 Philiphaugh, £80.50 Olrig Mains; Swaledale £50.50 Westburnhope; Beltex £80.50 Mossband House.


Averages:
Steers
Light to 221.5p (188.5p)
Medium to 238.5p (213.0p)
Heavy to 234.5p (219.9p)
Heifers
Light to 224.5p (210.5p)
Medium to 237.5p (223.9p)
Heavy to 194.5p (189.2p)
Young Bulls to 221.5p (205.1p)
Hoggs
Light to 218.0p (154.5p)
Standard to 279.0p (186.5p)
Medium to 256.0p (194.5p)
Heavy to 204.0p (170.1p)
Shlgs -------p (-------p)
Ewes
Light to £60.50 (£30.07)
Heavy to £134.50 (£64.60)
Cast Rams to £114.50 (£56.66)