The Cumberland & Dumfriesshire Farmers Mart had forward 435 head at their annual show & sale of Hillbred suckler calves on Saturday 25th October, 2008.
With all classes of cattle selling well, the vendors averages were up on the year.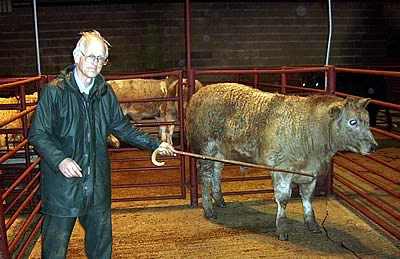 David Lawton From Greystoke Castle Farms with Champion Hillbred Suckler Calf
The show was sponsored by Barclays Bank plc and the judging was carried out by Mr James Crichton, Loughrigg who awarded the championship to Greystoke Castle Farms for a 7 month old Charolais steer. Mrs L Thomlinson presented the Jacob Thomlinson Challenge Trophy and the steer went on to sell for £750 and purchased by Mr. A. Williams, Wales.
Mrs Thomlinson presenting the Jacob Thomlinson Challenge Trophy to David Lawton, Greystoke Castle for his Champion Hillbred suckler calf
The reserve champion was a 7 month old Limousin steer from Wanwood Partners, Wanwood Hill which sold to £700 and purchased by Mr R Horner, Yorkshire.
Other prizes were Limousin bullock 2nd & 3rd Wanwood Hill, Limousin heifer 1st, 2nd & 3rd Wanwood Hill, Any other Cont bullock 2nd Wanwood Hill, 3rd Greystoke Castle.
The highlight of the sale was a superb run of 146 Charolais & Limousin calves from Greystoke Castle Farms with Charolais bullocks to £750 and Limousin bullocks to £570, heifers to £530 for Charolais and £450 for Limousin.
PRINCIPAL PRICES:
STORE BULLOCKS
Limousin £610, £600 Wanwood Hill, £600 Lowtodholes, £580 The Ash, £570 Greystoke
Belgian Blue £700 Wanwood Hill, £640 Cumcrook, £595, £585 Wanwood Hill
Charolais £790 Riggfoot, £750 Greystoke, £685 Cumcrook, £670 Greystoke, £665, £660 Riggfoot,
STORE HEIFERS
Charolais £575, £535 Riggfoot, £530, £525 Greystoke, £535, £525 Riggfoot, £515 Mosside & Cumcrook.
Limousin £700, £690 Edenbanks, £555 Greensburn, £550, £540, £530 Wanwood Hill, £510 The Holt
STORE BULLS
Limousin £535 Lowtodholes
Belgian Blue £505 Lowtodholes