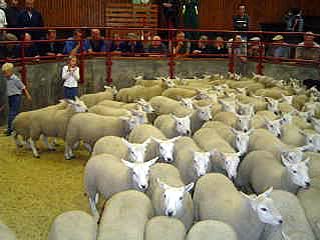 The Cumberland & Dumfriesshire Farmers' Mart P.L.C. had forward 4081 store lambs at their sale at Longtown on Wednesday 17th September 2008.
More store lambs forward and with more distant buyers present all classes easily maintained late high rates.
Top £46.80 for Texels from Southdene, others to £44.20 Ridley Farm, £43.20 Cumstone. Charollais £39.50 Townfoot; Suffolks £39.20 Dykerow, £38.20 Sunnyrigg; Greyfaces £39.80 Sunnyside, £38.20 Sunnyrigg, £36.80 Underbank; Blackfaces £36.50 Townshields, £31 Sundhope, £29.50 Tweedshaws; Zwartbles £33.80 Dykerow; Hill Cheviots £39.50 Linhope, £37.50 Clenries, £35 Windyhaugh & Unthank.
It was the annual show and sale of Hill Cheviot & Blackface lambs which were ably judged by Mr. JP Fisher, Smalmstown who awarded the following:-
Ex North Hill Cheviot 1st J Heslop, Windyhaugh, 2nd Messrs Dunlop, Commonside.
Ex Hill Cheviot 1st Messrs Busby, Unthank, 2nd Mrs Luescher, Glendinning, 3rd Langholm Farms, Coombs.
Blackface 1st Messrs Robson, Townshield, 2nd J Tullie, Bowan Hill, 3rd Mrs Luescher, Sundhope.