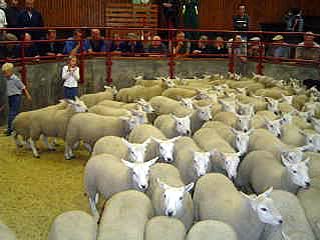 The Cumberland & Dumfriesshire Farmers Mart PLC had forward 5,829 store lambs and breeding sheep at their sale at Longtown on Tuesday 21st October 2008.
A large show with more buyers operating, trade was sharper on the week.
Top was £46.80, £46.20 for Texels from Ridley Stokoe, £45 Hartsgarth; Suffolks £44 East Foreshield; Charollais £36.80 Old Police House; Greyfaces £39 Allensgreen; Cheviot Mules £35 Dunshiel; Lleyns £32 East Murton; Herdwicks £27 Southdean; Swaledales £17 Blakelaw; tup lambs to £43.80 Ridley Stokoe.
Breeding sheep sold well with correct Texel ewes to £52 & £46 Springhill, Hill Cheviots £24 Arkleton; Swaledales £25 Eastlandends; Blackfaces £18 Woodburn. Blackface shearling gimmers £32 Springhill. Suffolk ram £100 Scotby Road.

SPECIAL STORE LAMB SALE
The Cumberland & Dumfriesshire Farmers Mart held their special show and sale of Cheviot and Blackface lambs at Longtown on Tuesday 21st October.
The Blackface lamb show was kindly sponsored by Dunbia (Wales) Ltd.
There was an outstanding entry of 1,955 Cheviots and 2,013 Blackfaces forward and trade was very good for strong, quality lambs.
Judging was ably and efficiently carried out by Edward Easton, Naddle Farm, Bampton, Penrith who awarded the following:-
Blackface lambs
1st Townshields selling at £33,
2nd Fruid selling at £29,
3rd Springhills selling at £27.50,
4th Horseholm selling at £29.
North Country Cheviots
1st & 2nd Castlehill selling at £38 & £36,
3rd Sorbietrees selling at £31.50.
Hill Cheviots
1st Granton selling at £35,
2nd Girnwood selling at £33.50,
3rd Glendinning selling at £35.
Cheviot lambs outwith the show sold at £35 Mount Benger, £33.50 Glendearg, £33 Singlie.
Blackfaces £34.20, £32.50 Allensgreen, £30 Hareshaw.