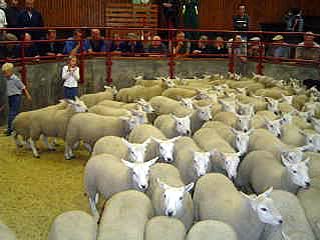 The Cumberland & Dumfriesshire Farmers Mart PLC had forward 4,031 store lambs and breeding sheep at their sale at Longtown on Tuesday 18th November 2008.
More buyers were present and all classes were the best trade of the season.
Top was £50 for Beltex lambs from Townfoot, Texels £47.20 Hudgillrigg, £44 Dykenook; Suffolks £45 The Throp; Greyfaces £39.50 Hudgillrigg, £37.50 Dykenook; North Country Cheviots £39.20 Lochuisge, £37 East Murton; Blackfaces £41 Horseholm; Swaledales £23.50 Sinderhope Shield, £22.20 Whitefield Estate.
Tup lambs £36.50 Hudgillrigg.
Cast ewes £31 Cherry Garth.
Hill Cheviots (1,038) with buyers from Cheshire present, all classes enjoyed the dearest trade. Top was £39 Granton, £37 Girnwood.
Breeding sheep to £50 for Greyface ewe lambs from High Craigton; Hill Cheviot ewes to £21.50 Roweburn who also sold Blackfaces at £21.50.