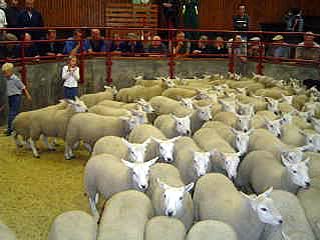 The Cumberland & Dumfriesshire Farmers Mart PLC had forward 3,429 store lambs and breeding sheep at their sale at Longtown on Tuesday 2nd December 2008.
A larger and better show of lambs with more buyers present and all classes dearer.
Top was £50.20 for Texel cross lambs from Meiklewood, £49 Hutlerburn. Suffolk x £43.80 Glendhu, £43.50 Viewfield, £43 Hardhurst & Hallburn; North Country Cheviot £46 Ramshope, £44.20 Hillcrest; Charollais £41.80 Hallburn; Hill Cheviot £42.50 Alnham Castlehill, £40 Preisthaugh; Greyfaces £48 Bayldon, £47.80 Harsondale; Blackfaces £45.50 Seafield, £44.50 Harsondale; Romney £39.20 Viewfield.
Tup lambs to £45.50 Greenside. Cast ewes to £61 from Seafield. Cast rams to £45.50 Viewfield.
Breeding sheep to £40.50 for Texels from Maxton, £40 for Greyfaces from Kinning Hall.