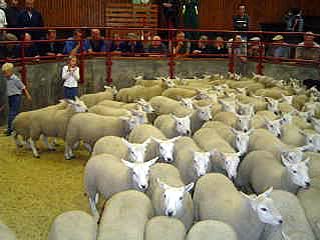 The Cumberland & Dumfriesshire Farmers Mart PLC had forward 4387 store and breeding sheep at Longtown on Tuesday 20th January, 2009.

With more buyers operating, all classes of store hoggs were again sharper.

Top £65.50 for Lleyns from Over Whitlaw. Texels £62.80 Whinney Brow, £61.00 Beechcroft, £60.50 Cottage Farm, Oxfords £64.50 Burrance of Courance, Suffolks £59.20 Borthwick Mains, £58.50 Viewfield; Greyface £64.20, Burrance of Courance, £59.80 Laverhay and North Deanhead, £59.00 Barnshangan; North Cheviots £56.20, Adderstoneshield; Half Bred £60.20, Adderstoneshield; Beltex £59.80 Sharplaw; Hill Cheviots £57.20 Glendinning; Blackface £50.50 River View, £46.80 Geltsdale, £45.80 Glenwhargen; Swaledales £32.80 Laverhay, £31.20 Broadmea.

Cast Ewes sold to £50 from Viewfield who also sold Cast Rams at £56.50.

Breeding Sheep met a ready trade and more could have been sold. Top £82 and £80 for in lamb
Texel gimmers from 7 Wynd, North Cheviot £60, Maxton who also sold inlamb Texel ewes at £68 and £63.
Ewe Hoggs £55 for Greyfaces from Low Broom, North Cheviots £43.80 Cumstone.