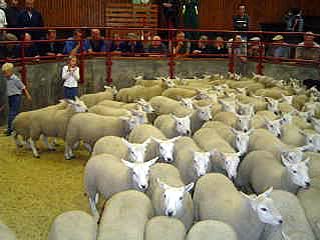 The Cumberland & Dumfriesshire Farmers Mart PLC had forward 1,701 Store and Breeding sheep at their sale at Longtown on Tuesday 3 February 2009.

A smaller show due to the weather, all classes again remained dear.

Top £76.50 for Texel hoggs from Dinwoodie Green, other £75.00 Broomhills. Suffolks to £60.20 Balnahard. North Cheviots to £55.80 Byster and £54.80 Balnahard. Cheviot Mule to £64.50 Woodfoot. Greyfaces to £57.50 Reagill Grange. Hill Cheviots to £52.50 Dinley. Blackface to £41.50 Blindhillbush. Swaledales to £37.50 Reagill Grange.

In Lamb ewes sold well. Scanned twins correct Hill Northies to £60 Potholm. South Country Cheviots to £60 Potholm, correct below Texels to £62 Woodfoot who also sold Cheviot Mules to £59 and Greyfaces at £54. Scanned single Hill Northies to £50 Potholm. South Country Cheviots to £46 Potholm.

Scanned triplets correct below Greyfaces at £54 Woodfoot.