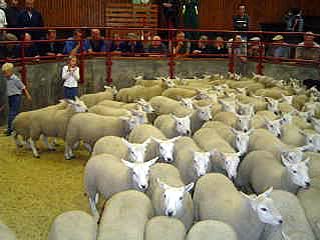 The Cumberland & Dumfriesshire Farmers Mart PLC had forward 2218 Store and Breeding sheep at their sale at Longtown on Tuesday 7th April 2009.
Hoggs were still in demand. Top was £88.50 for North Country Cheviots from Browtop; Texels to £80.20 East Mains. Suffolks £72.50 Burn House; Halfbreds £59.80 Draniegower; Greyfaces £78.50 Bankshead; Charollais £66.50 Burnhouse; Cheviot Mules £78.50 East Deloraine; Hill Cheviots £59.20 East Deloraine, £55.80 North House; Blackfaces £71.20 Lamperts, £65.50 Oliver Farm; Swaledales £54.50 Blackhouse; Shetlands £49.50 High Nook.
Cast ewes £78.50 Dranigower. Cast rams to £86.50 East Kinsell.
Ewes and lambs were a larger entry and dearer. Top was £66 for Texel shearlings with twins from Bellmont, who also sold singles at £59. Greyface shearlings & twins £52 Lanehead.
Ewes with singles: Texels £65.50 Sarkside; Roussins £58 Fairnbank; Suffolks £60 High Crindledyke; Greyfaces £56 High Crindledyke; Jacobs £36 Pennine View.
Ewes with twins to £44 for Greyfaces from Raby Grange, High Crindledyke & Bateyshield; Jacobs £31 Pennine View.
Geld hoggs to £55 for Greyfaces from Lochwood.