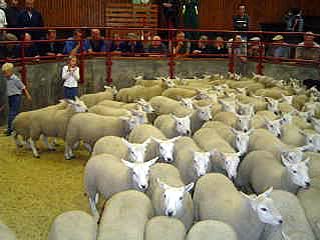 The Cumberland & Dumfriesshire Farmers Mart PLC had forward 2106 Store and Breeding sheep at their sale at Longtown on Tuesday 21st April 2009.
Store hoggs were still in demand. Top was £83.20 for Suffolk x from Southfield. Texels £70.80 The Steading; Greyface £62.20 Leahaugh; Blackface £76.20 The Steading: Zwartbles £49.50 Candybank; Hill Cheviot £58.20 Beechcroft; Swaledales £38.50 Haithwaite.
Cast ewes to £59.50 for Blackface from Castlefield.
Ewes and lambs were more numbers and trade brisker. Top was £70 each for Texel ewes with singles from The How. Greyfaces £53 Drumcork; Halfbreds £45 Raby Grange; Suffolk x £50 High House; Blackface £33.50 Tarn House; Herdwicks £41 Herdwick; Hill Cheviot £39 Pennine View; Swaledales £30 Sunnyside.
Ewes with twins to £66 for Texels from The How; Lleyns £54 Toppin Castle; Greyfaces £55 Drumcork, £51.50 Lowthwaite; Suffolk x £46.50 Pennine View; Hill Cheviot £38.50 Raby Grange; Herdwicks £40 Herdwick; Swaledales £30 Sunnyside; Blackfaces £31 Tarn House.
Shearlings with twins £49.50 for Greyfaces from Henrys Hill, £49 Drumcork; shearlings with singles £50 Old Police House.
Inlamb Hill Cheviot ewes to £57 Tushielaw.