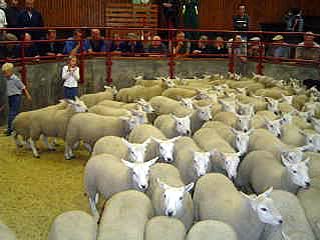 The Cumberland & Dumfriesshire Farmers Mart PLC had forward 2107 Store and Breeding sheep at their sale at Longtown on Tuesday 5th May 2009.
Ewes and lambs were a large entry with trade similar.
Top was £78 for Texel shearlings with singles form Rulewater; Greyfaces £52 Snowdon Close.
Shearlings with twins £49 for Greyfaces from Snowden Close.
Ewes with singles – Texels £73 Rulewater, £71 Guelder Bank; Greyfaes £54.50 Drumcork.
Ewes with twins – Texels £76 Rulewater; Greyfaces £56 Guelder Bank; Suffolk x £49 Murraythwaite; Hill Cheviots £38 Murraythwaite; Lleyns £38 Castle Farm.
Hoggs and lambs were very dear with singles to £67, £65 Little Blencowe and with twins £48 Briggle.
Geld hoggs to £68 for Greyfaces from Chapel, £57.50 Blackfaces from The Gall.
Store hoggs were still in demand. Top was £63 for Texels from Lochwood; Greyfaces £57.50 Lochwood; Blackfaces £53.50 Lowes; Hill Cheviots £57.50 Clerk Hill.
Cast ewes £39.50 Lochwood.