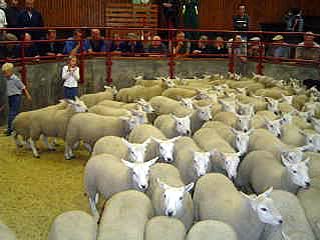 The Cumberland & Dumfriesshire Farmers Mart PLC had forward 2346 store & breeding sheep at their sale at Longtown on Tuesday 19th May 2009 which included the annual show and sale of hoggs with lambs.
With buyers present from a wide area, trade was again very dear. Top was £82 for the first prize pen of Mule hoggs with singles from Messrs Ridsdale, Yewtree which sold to the judge David Faulkner of Abergele. Messrs Ridsdale sold others to £76, followed by £75 Briggle, £73 Bailey Mill, £71 Knells.
Continental hoggs with singles to £74 for Texels from Breconside, £66 Cubby Hill.
Mule hoggs with twins £52 Porterstown, £51.50 Seathill, £51 Briggle.
Ewes with singles £72 for Texels from The How; Cheviot Mules £60 Yewtree; Greyfaces £54.50 Skelston; Hill Cheviot £40 Pennine View; Blackfaces £28.50 Over Cassock; Swaledale £22 Bayles.
Ewes with twins: Texels £68 The How; Cheviot Mules £60 Yewtree; Greyface £60 Yewtree; Lleyns £45 Bayles; Hill Cheviots £32.50 Bayles; Blackfaces £23 Drumcork; Swaledales £22 Bayles.
Greyface shearlings with twins £58 Spout Bank.
Store hoggs were still dear. Top was £61.20 for Cheviots from Raby Grange; Texels £53.20 Minnygap; Swaledales £51.50 Bayles. Cast ewes to £77.50 for Texels from The How. Cast rams to £56.50 for Cheviots from Bayles.