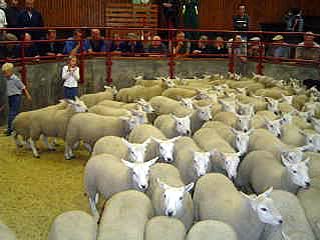 The Cumberland & Dumfriesshire Farmers Mart PLC had forward 1540 head of breeding sheep at their sale at Longtown on Tuesday 2nd June 2009.
All classes of breeding sheep sold at the dearest trade of the season, with the largest crowd of buyers present seen this season.
Top price was £68 for Greyface hoggs with singles from Prospect, others to £67 Yewtree, £65 Porterstown. Texels hoggs with singles £66 Sockbridge Hall, £65 Old Police House, £63 Kinning Hall; Suffolk £52 Sockbridge Hall. Greyface hoggs with twins £59 Porterstown, £54 Prospect, £51.50 Seathill.
Shearlings with twins £51 for Texels from Seathill; Greyfaces £52 Seathill, £50 Bayles.
Ewes with singles to £57 for Swaledales from Drumcork; Blackfaces £41 Johnstone Bank; Hill Cheviot £42 Brookfield, £40 Bayles; Texels £48 Bayles, Lleyn £46 Castlefearn.
Ewes with twins: Greyfaces to£48.50, £45.50, £43.50 Bayles, £42 Brookfield; Hill Cheviots £43.50 Pennine View, £43 Brookfield; Texels £46 Kinning Hall; Lleyn £49 Castlefearn; Blackface £41 Johnstone Bank; Swaledale £34 Chapel; Zwartbles £45 Lonely Bield.
Ewe hoggs to £75.50 for Lleyns from Castlefearn.
Cast ewes to £48.50 Bayles. Cast rams £45.50 Bayles.