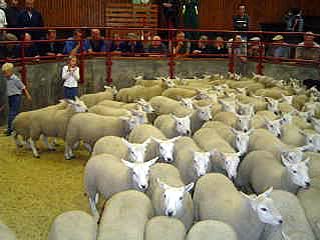 At their Opening Sale of Store Lambs & Breeding Sheep on Tuesday 28th July 2009, The Cumberland & Dumfriesshire Farmers Mart PLC had an entry of 1,825.
Store lambs were of top quality and with a massive ring of buyers present, all classes met an exceptional trade to average £45.87, a rise of £11.80 on the year.
Top of £54.80 for Texels from Howard House, others £54.50 Greenknowe, £51 Hownam Grange; Suffolk £50.80 Haswellsykes, £47.80 Cleugh Head, £47 Bateyshield; Greyface £48 Bailey Mill, £44.20 Stonehall, £44 Penpeugh; Charollais £44.50 Hallburn; Blackface £39.80 Penpeugh; Herdwick £38 Knarr.
Breeding sheep met a strong enquiry and were far short of requirements for the number of buyers present. Top of £87 for correct Texels from Greenknowe, who sold others at £82 and £78; Suffolk cross £76 Stackbraes, who sold Greyfaces at £70 and Lleyns at £51. Herdwick ewes with lambs to £26 from Haithwaite.
---