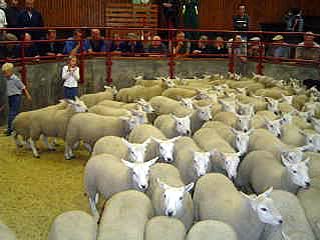 The Cumberland & Dumfriesshire Farmers Mart PLC had forward 1,561 breeding sheep and 4,048 store lambs at their weekly sale at Longtown on Tuesday 18th August 2009.
The Special Sale of Breeding Sheep saw good sheep meet a very good trade. Top of £118 and £112 for Texel cross ewes from Stackbraes, who sold Suffolk crosses at £83; Cheviot Mule £86 Mossband House; Greyface £72 Stackbraes; Jacob £65 Hartshaugh Mill; Zwartbles £50 Mossband House.
Young ewes sold to £92, £90 and £89 for two shear Greyfaces from Englishtown, with three shears to £84 from Nunscleugh; Suffolk £82 Stackbraes. Rams to £150 for a Beltex from Whitehill Cottage.
Store lambs attracted a large company of buyers from far and near, trade remained dear for an excellent quality show.
Top of £58 for Suffolk crosses from Margaret Drive who of a consignment of 590 lambs averaged £51.95, others to £53.80 Oliver Farm; Texel £57.50 Girnwood, £55.50 Sheepriggs and Williamswood; Beltex £54 Pallet Hill; North Country Cheviot £51 Meiklewhitriggs; Greyface £50 The Row, £49.20 High Parkfoot, £49 Sheepriggs; Blackface £44 Leahaugh; Hill Cheviot £43.50 High Thorneyburn; Swaledale £36.50 Ottercops.

---