LONGTOWN CHEVIOT MULES
Record trade for ewe lambs and shearlings
Ewe lambs to £108 Shearlings to £161
The Cumberland & Dumfriesshire Farmers Mart held their annual sale of Cheviot Mule ewe lambs and gimmer shearlings at Longtown on Tuesday 25th August 2009.
With buyers present from as far afield as Aberdeenshire and Sussex, there was a very strong trade throughout at the country's main sale of Cheviot Mules (a cross between the Cheviot ewe and Bluefaced Leicester ram.
Ewe lambs averaged £82.39 (up £21.57 on last year) and gimmer shearlings averaged £136.71 (up a massive £50 on the year).
In the North Country Cheviot Mule ewe lamb section top price was £108 paid for a pen of 20 from R. King & Sons, Gospel Hall, Jedburgh by Highfield Farms, Mayfield, East Sussex. Gospel Hall sold other pens, each of 20, at £106, £105 (twice) and £102. W.A. Crozier, Embley, Hexham sold 2 pens at £105 each to W. & J. Brown, Hilton of Culsh, Aberdeenshire. Embley also sold at £104 with H. Cockburn & Partners, Kingside selling at £105 and £104 to Smith & Sons, West Bolton, Alnwick. Pens from M. Aynsley & Son, Wardhill, Morpeth made £104, £102 (twice) and £101 (twice).
Top prices in the Hill Cheviot Mule ewe lamb section were £101 from J. Common & Son, Crossdykes and £100 from Miss Oliver, Wauchope Farm.
Other ewe lamb prices included Kingside £100, £96; Wardshill £94, £93; Overacres £98, £96, £96, £90; Gospel Hall £92, £91; Corriehills £90; Philiphaugh £88; Embley £96; Terrona £83, £82; Crossdykes £87; Carterton £80 (x4).
In the shearling section, in which many more could have been sold to advantage, the top was £161 to J.B. Milroy, Mains of Machermore, others £150 J. & J. Wallace, Greenacres, £149 and £146 (twice) Sir M. Strang-Steel, Philiphaugh, £144 and £136 Granton, £142 Gospel Hall, £136 Castlehill, £134 Carterton.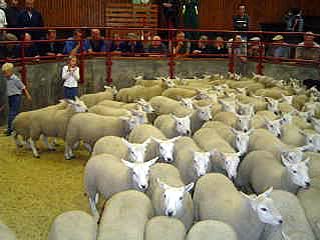 The Cumberland & Dumfriesshire Farmers Mart PLC had forward 4,542 store lambs at their weekly sale at Longtown on Tuesday 25th August 2009.
Another good entry attracted buyers from Kent, Northampton, Devon and Hereford, all classes enjoyed the best trade so far.
Top of £61 for Beltex lambs from Hawthornbank; Texel £57 Kilnfordcroft and Greenwell Meadows, others £56.50 Enthorn, £55 Underbank; Suffolk £57.50 High Loveladyshield, £57 Holme Farm, £55 Underbank; Hill Cheviot £50 Holme Farm, £49.50 Meikle Whitriggs, Gillespie Farm and Carlenrigg; Charollais £50 Holme Farm; Greyface £48.80 Berryfell, £48.50 High Burnfoot and Silloans, £48 High Loveladyshield; Blackface £39 Brownhill. Suffolk cross ewe lambs to £63, £62 and £61.50 Holme Farm.
---