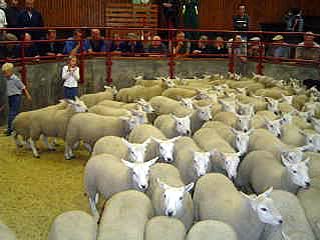 The Cumberland & Dumfriesshire Farmers Mart P.L.C. had forward 6,714 store and breeding sheep at their weekly sale at Longtown on Tuesday 20th October 2009.
Included was the Annual Show & Sale of Cheviot and Blackface lambs, when an entry of 2,505 Cheviots and 1,315 Blackfaces were forward.
A fantastic quality show was ably judged by Mr J.P. Fisher, Smalmstown, Longtown, whose awards were as follows:-
Blackfaces
1st prize - Wanwood Partners, Wanwood Hill, sold at £50
2nd prize – W.S. Robson, Yatesfield, sold at £51
3rd prize – G. Famelton, Horseholme, sold at £50
4th prize – H. & H. Robson, Townshield, sold at £50
Hill Cheviots
1st prize – D. McGarva, Granton, sold at £56.50
2nd prize – J.F. Irving & Son, Mount Benger, sold at £50.50
3rd prize – T.W. Tennant, Gilmanscleugh, sold at £46
Hill North Cheviots
1st prize – J. Sordy, Alnam Castlehill, sold at £55.50
2nd prize – J. Hislop, Windyhaugh, sold at £47
3rd prize – D. Cavers, Dod Farm, sold at £45

Trade was very strong for an excellent show of lambs. Top price of £57 for Texel lambs from Gibbs Hill, others £55 Stockwellhall, £54 Girnwood, East Murton and Gatehousecote; Suffolk £51.50 Borthwick Brae, £50.50 Low Old Shield; Hill Cheviot £56.50 Granton and Kelsocleugh; North Country Cheviot £55.50, £54, £50 Alnham; Greyface £54.50 Ladylands, £50 Wanwood Hill, Low Old Shield and Gibbs Hill; Blackface £51 Yatesfield, £50 Wanwood Hill, Town Shields and Horseholme; Charollais £48.50 Low Old Shield; Ryeland £43 Low Old Shield; Swaledale £28 Pryhill; Herdwick £23.50 West Head. Feeding ewes to £47.50 for Greyfaces from Nethertown.

Breeding ewes sold to a top of £60 for correct Cheviot Mule ewes from Bayles; Swaledale £52 Little Deepthwaite; Hill Cheviot £46.50 Setthorns. Ewe lambs to £56 for Texels from Ladylands.

---