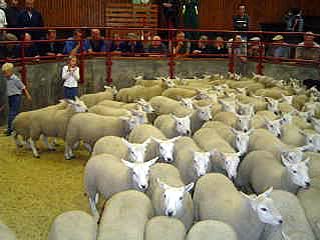 The Cumberland & Dumfriesshire Farmers Mart P.L.C. had forward 5,275 store lambs and 776 feeding and breeding sheep at their sale at Longtown on Tuesday 10th November 2009.
Store lambs were the dearest trade of the season and short of buyers requirements. The sale was topped at £63 for Suffolks from Messrs Dunlop, Commonside, others £60 Attonburn, £59 Ashkirk Town; Texel £61.50 Ashkirk Town, £60.50 Yatesfield, £60 Ridley Stokoe, Rinnion Hills, Yatesfield and Bettyknowes; Greyface £58.50 Clarghyll, £58.20 Patties Hill, £57.50 High Parkfoot and Linton House; Beltex £57.50 Ashkirk Town; Blackface £55.20 Lamperts, £50.50 Sewing Shields, £48.50 Geltsdale; Charollais £55 Arkleton and Linton House; Romney Marsh £54.80, £54 Holme Farm; Swaledale £51.50 Risehead, £43.20 East Unthank. Tup lambs to £58.50 Glenkiln.
There were also 1,536 Cheviot lambs forward with trade extreme and short of requirements.
Hill Cheviots to £55.20 from Girnwood, £54.50 Cooms; £54 Granton, with Hill Northies to £57.50, Meiklewhitriggs, £53.50 Kelsocleugh and £53 Quarry Lodge. Also forward were a good show of 776 breeding sheep and feeding ewes. Top price of £300 for a Beltex x Texel shearling ram from Middle Farm; Leicester £180 Penlan; Texel £170 Penlan. Breeding ewes to £61.50 for Texel from Low Old Shield; Suffolk £57 Linton House; Greyface £54 Linton House, £53 Glendhu; North Country Cheviot £54 Linton House; Blackface £43 Bushfield; Swaledale £44 Glendhu. Ewes lambs to £62.50 for Texels from Attonburn, £60.50 Patties Hill; Greyface £55 Tecket, £54 Blacksmiths Cottage. Cast ewes to £73 for Suffolk x from Linton House, Hill ewes to £60 Meiklewhitriggs, cast rams to £50 Greenleycleugh.

---