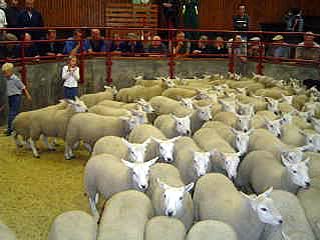 The Cumberland & Dumfriesshire Farmers Mart P.L.C. had forward 5,007 store sheep at their weekly sale at Longtown on Tuesday 1st December 2009.
Another good show of store lambs saw more distant buyers and trade still remained dear. Top of £72.50 for Greyfaces from Greyside, others £63.20 Wanwood Hill and Broomhills, £61.20 The Nook (Forster); Texel £69.80 Bankshead, £69.50 Ashkirktown and Mossband Hall; Suffolk £68.50 Leahill and Mossband Hall, £66.20 Linton House; North Country Cheviots £66.20 Spithopehead, £60.80 Oliver Road; Cheviot Mule £64.50 Embley; Half Bred £63.20 Embley; Romney Marsh £58.80 Holme Farm; Herdwick £58.80 Boathouse; Blackface £57.80 Silloans, £54.50 Ridley Stokoe, £53.50 Wanwood Hill; Lleyn £50.80 East Murton; Swaledale £47.50 High Edges Green, £46.20 The Bog. Tup lambs to £67.50 Mossband Hall. Cast ewes to £80.50 for Texels from Ashkirktown, hill ewes £57.50 Priesthaugh.
The 1,003 Cheviot lambs continued to be very dear to a top of £59.20 Girnwood and Eweslees, £56.80 Ramsaycleugh. Hill Northies to £66.20 Spithopehead.

---