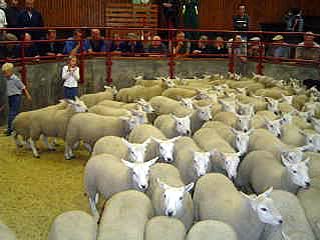 The Cumberland & Dumfriesshire Farmers Mart P.L.C. held their Annual Show & Sale of 2,084 head of Hoggs with Lambs, together with other sheep at Longtown on Tuesday 18th May 2010.
Judging was in the capable hands of Bob Hayton, Longrow, Canonbie, whose awards were as follows:-
Mule Hoggs with Singles – 1st – Messrs Ridsdale, Yew Tree, Calthwaite and sold at £89.
2nd – Messrs Ridsdale, Yew Tree and sold at £86.
3rd – P.M. Kidd, Briggle Farm, Langwathby and sold at £77.
Continental Hoggs with Singles – 1st – T. Davidson, Bellmount, Irthington and sold at £67.
2nd – D. Carr, High Wood, Hexham and sold at £69.
In general all sheep were to sell at more money and short of requirements from a full ring of buyers.
Hoggs with singles:- Greyface £89, £86, £82 Yewtree, £79 Mossband Hall, £78 Briggle, £77 Seat Hill, £73 Prospect; Cheviot Mule £70 Highwood.
Hoggs with twins:- Suffolk cross £68 Seat Hill; Greyface £66 Little Blencowe.
Shearlings with singles:- Beltex £79 Bensons Fell; Texel £60 Fergus Hill; Cheviot Mule £58 High Chesters.
Shearlings with twins:- Texel £58.50 Fergus Hill; Greyface £55 Henrys Hill.
Ewes with singles:- Beltex £77 Bensons Fell; Texel £66.50 Flex; Cheviot Mule £64 High Chesters; Cheviot £55 Hardhurst; Suffolk cross £55 Hardhurst; Lleyn £52.50 High Dovecote.
Ewes with twins:- Beltex £63 Bensons Fell; Suffolk cross £58 Waynrigg; Texel £53.50 Flex; Zwartbles £53 Mossband Hall; Greyface £53 Henrys Hill and Moss Side; Lleyn £51.50 High Dovecote; Swaledale £36 East Cragside.
Geld hoggs:- £89 Reagill Grange.
Store hoggs:- £80.20 West Wharmley.
Cast Ewes:- £85.50 Brookfield, who also sold hill types at £69.50.

---