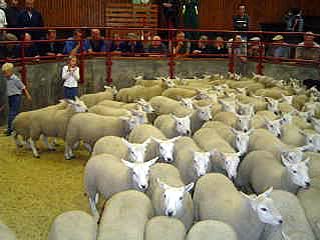 The Cumberland & Dumfriesshire Farmers Mart P.L.C. had forward 3,276 correct ewes and shearlings, 43 rams and 55 Zwartbles at their annual special sale at Longtown on Wednesday 1st September, 2010.
All classes of breeding sheep were the best quality seen for a number of years and met the dearest trade ever recorded, with buyers present from near and far. Both shearlings and ewes were up £24 on the year.
Shearlings sold to £280 for Texels from Kingfisher Farm, others to £215 Gallhills and £190 Crumhaugh Hill & Woodhouse Hill. Greyfaces to £148 Broomhills, £145 Snowden Close, £138 Peela Hill, £135 Gall, £134 Whitton; Suffolks £138 Westerkirk; Cheviot Mules £124 Greenknowe; Bleu de Maines £128 Stackbraes.; Lleyns £130 Bowsden.
Ewe lambs to £105 for Texels from Woodhouse Hill.
Correct ewes to £106 for 3 shear Greyfaces from Calvo, others £98 Chapel, £96 Hallsoven, £95 Hallburn; Cheviot Mules £101, £100 Milsington; Suffolk x £100 Hallburn; Texels £100 Stackbraes; Charollais £102 Dunnabie; Lleyns £88 Norman Farm; Cheviots £78 Newington.
Rams met a strong trade and were far short of requirements. Top was £510 for a Texel from Kingfisher Farm, others to £500 Bellmount, £440 Woodhouse Hill; Charollais £300 Lesson Hall; Beltex £350 Harene, £320 Lesson Hall; Suffolks £240 Lesson Hall.
Zwartbles met a keen enquiry with the best easy to sell. Top was £200 for a shearling ram from Williamwood. Ram lambs to £125 Croft Head. Ewe lambs to £95 The Croft.

---