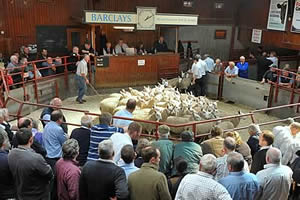 The Cumberland & Dumfriesshire Farmers Mart had forward 4,586 Store Hoggs at their weekly sale at Longtown on Tuesday 17th January 2012.
Many buyers present and against the trade hoggs were the dearest trade of the season.
Top of £87.50 and £83.50 for Beltex's from Sharplaw Farms; Suffolk £81.50 High Wood End; Texel £80.50 Barnbackle and Broomhills; Half Bred £80.50 Adderston Shiels; Greyface £79.80 Grassgarth, £78.80 Coombe Crag, £78.50 Wydon Eals; Charollais £79.50 Hallburn; North Country Cheviot £77.50 Adderston Shiels; Lleyn £68.50 Chipknowe; Roussin £68.50 Artnoch; Blackface £68.50 Clover Hill, £64.50 Townshields, £63.50 West Hottbank; Swaledale £58.50 High Wood End; Herdwick £46.50 Middle Row.
Tup hoggs to £82.50 Patties Hill.
Cast ewes to £99 Barnbackle, hill types £62.50 West Hottbank.
Cast rams to £121 Wardrew, hill types £95 Unthank.
In lamb ewes to £68.50 for Blackface from South Mains.
---