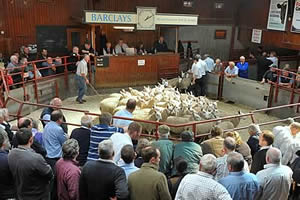 The Cumberland & Dumfriesshire Farmers Mart had forward 2,686 Store Hoggs and 189 In Lambers at their weekly sale at Longtown on Tuesday 7th February 2012.
Stores were a quality show and again very dear. Top of £87 for Cheviots from Springwell, £86.50 North Synton, £85.50 Stouphill; Suffolk £85.50 Woodfoot Farm, £82.50 Satchells, £81.50 High Acres and Borthaugh; Beltex £85 Woodfoot Farms, £83.50 Raby Grange; Greyface £75.50 Broomhills, £73.50 High Parkfoot, £72.50 Bonshawside; Hill Cheviot £74.50 Todrig, £70 Effgill; Zwartbles £73.50 Satchells; Blackface £69.50 Blakehopeburnhaugh, £68.50 Crookston Farms; Beulah £60.50 Howcleugh; Swaledale £57.50 Hepple Hill.
Cast ewes to £87.50 Rabygrange, hill types £75 South Mains. Cast rams to £85 Springwell.
In Lamb Ewes again good to sell with buyers keen to purchase. Top of £145 and £141 (2) for correct Greyface ewes scanned triplets from Chapel House. Texels running with ram to £110 South Mains. Scanned Hill Cheviots (correct below) to £76 Milton Mains.
---